Performance with Ingela Ihrman: The Passion Flower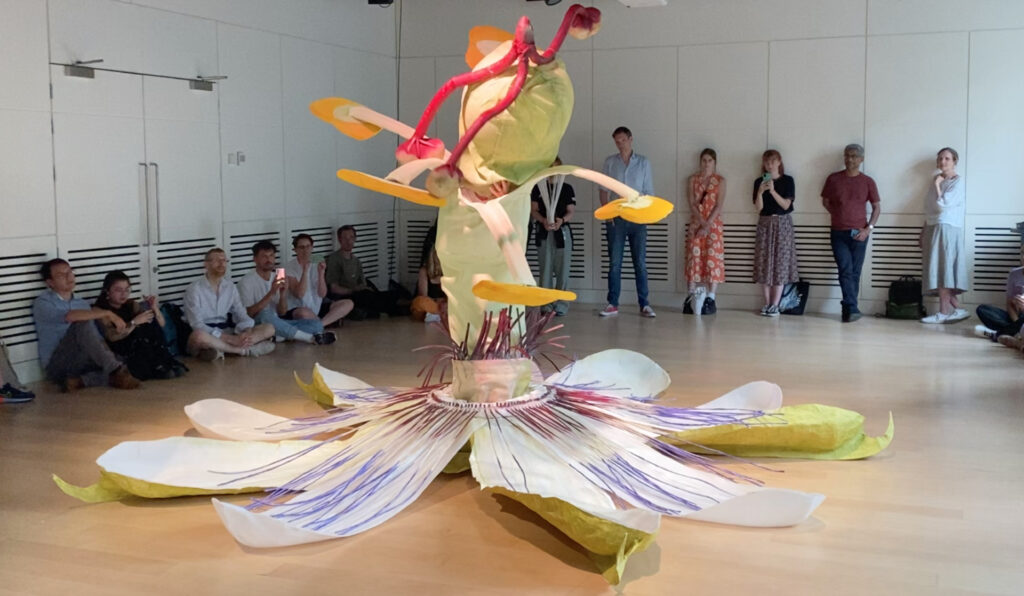 Performance with Ingela Ihrman: The Passion Flower
Ingela Ihrman – Frutti di Mare – is a performance-oriented exhibition where the artist in her works examines the human being's complicated relationship to herself and other living beings. By wearing her sculptural costumes, she seeks herself in other existences – in the passion flower, the giant otter, the fir cone or the oil bird – and uses humor as a tool to explore human shortcomings and emotions. The performance The Passion Flower stages the blooming and pollination of the blue passion flower.
Ingela Ihrman's performances raise complex questions surrounding belonging, identity, origin and reproduction. When the body is concealed, the objectifying gaze is redirected, and questions who is really watching whom, and how we relate to each other.
The Passion Flower is part of the work series The Inner Sea. The audience is offered to step into the roles of hummingbirds or butterflies that have come to pollinate the flower. As in all of Ihrman's performances, the figures behave in their characteristic and idiosyncratic ways – they emit scents, excrete fluids, give birth, feed and reproduce.
The fall exhibition at Malmö Konsthall is the largest presentation to date of the internationally recognized Swedish artist Ingela Ihrman. RRead more about the exhibition here.
Information
What: Performance
When: Sat 30.9 at 11–11.15
Where: The exhibition hall
Drop in, free entrance
Related Events