Performance with Ingela Ihrman: The Giant Clam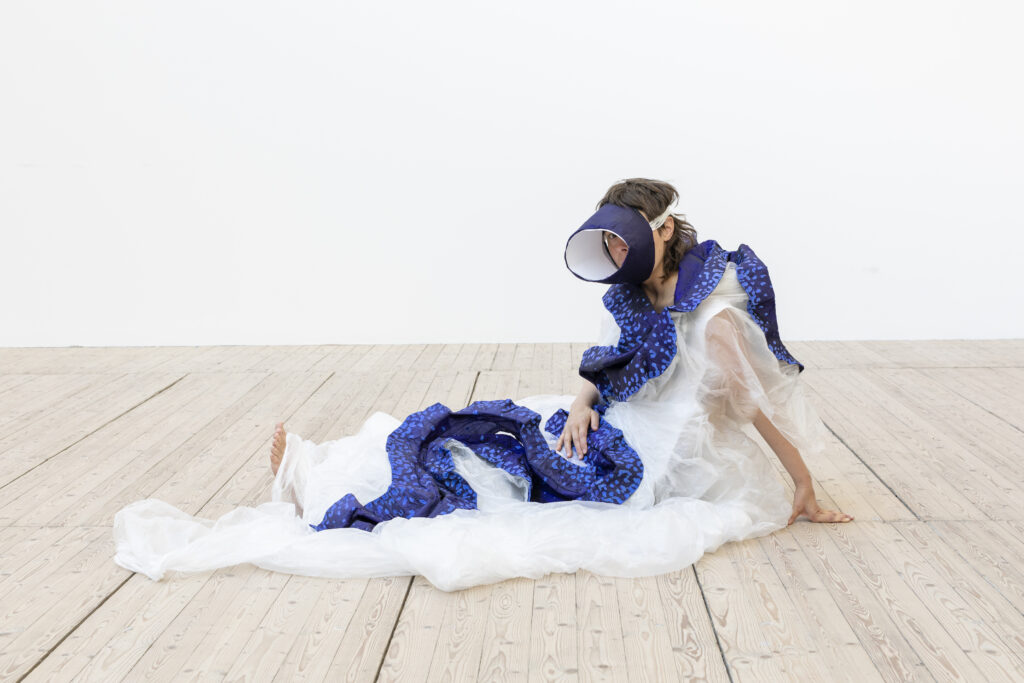 Performance with Ingela Ihrman: The Giant Clam
Ingela Ihrman – Frutti di Mare – is an exhibition where the artist in her works examines the human being's complicated relationship to herself and other living beings. By wearing her sculptural costumes, she seeks herself in other existences – in the passion flower, the giant otter, the fir cone or the mussel – and uses humor as a tool to explore what it means to be someone, or something. The performance The Giant Clam is now being staged for the second time after the premiere in connection with her exhibition at Moderna Museet Malmö 2020.
The Inner Ocean: The Giant Clam is a reading performance that last time took place in Ingela Ihrman´s apartment in the residential area Seved in southern Malmö in 2020. Dressed in a giant mussel mantle made of blue silk fabric, acrylic paint and various kinds of plastic, she laid in her bathtub while reading texts from Seaweedsbladet # 1 – a newspaper she made in 2017 that was distributed to 3500 households in Seved.
There is a membrane between the internal organs of a giant clam and the hard calcareous shell. The membrane is called the mantle and it's here – between the hard that encloses the soft, pearls evolve. When I wear the mantle, my body becomes the soft interior of the mussel and the bathtub becomes the hard shell. The apartment's concrete walls forms the structure that the clam reside in.

Ingela Ihrman
The fall exhibition at Malmö Konsthall is the largest presentation to date of the internationally recognized Swedish artist Ingela Ihrman. Read more about the exhibition here.
Information
What: Performance
When: Sun 1.10 at 13.30–14
Drop in, free entrance
Related Events