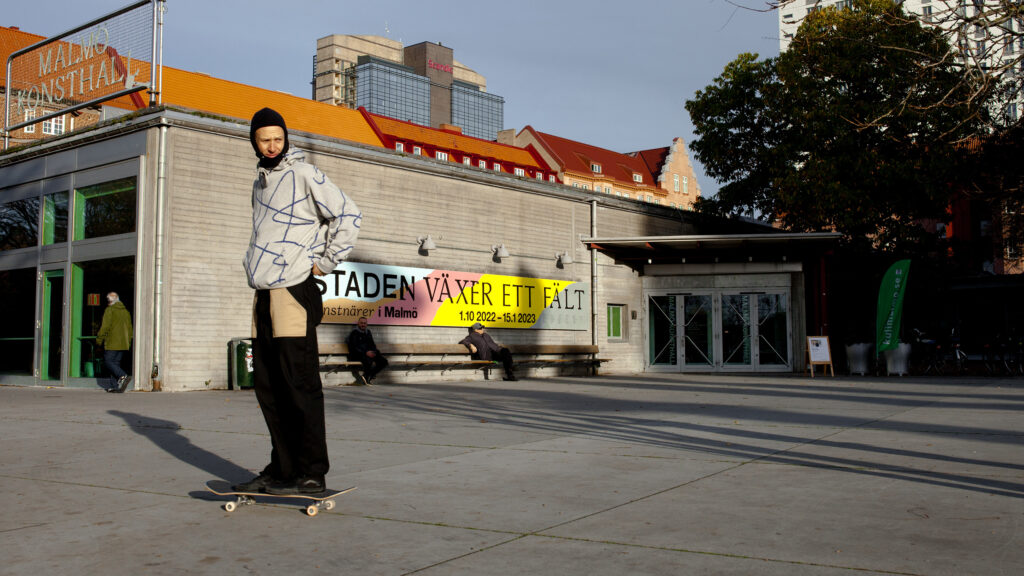 Visit and contact
Malmö Konsthall – one of Scandinavia's largest exhibition spaces for contemporary art – is located in the heart of Malmö, near Triangeln train station. We have free admission to all exhibitions, workshops and programmes. Malmö Konsthall is closed for installation of the next exhibition, Roman Signer, until June 3rd. The bookshop is open Tuesday to Sunday at 11–15.
Opening hours
Monday: closed
Tuesday: 11–17
Wednesday: 11–19
Thursday: 11–17
Friday: 11–17
Saturday: 11–17
Sunday: 11–17
Closed
Christmas Eve
Christmas Day
New Years Eve
New Years Day
Midsummer Eve
Midsummer Day
Address
S:t Johannesgatan 7 Malmö
Post address
Malmö Konsthall 205 80 Malmö
Deliveries
Munkgatan 2
Contact
Find us
Malmö Konsthall is located next to the shopping centre Triangeln in central Malmö. You can easily get here by public transport, by bike or on foot. Welcome!
By foot
Malmö Konsthall is located by the shopping centre Triangeln. It takes about 15 minutes to walk to Malmö Konsthall from Malmö C.
Train or bus
Station Triangeln for trains and buses. Stop at S:t Johannesgatan.
Bike
Bicycle parking is available outside the entrance to the restaurant and in the piazza outside Malmö Konsthall.
Car
The nearest parking garage is at Triangeln.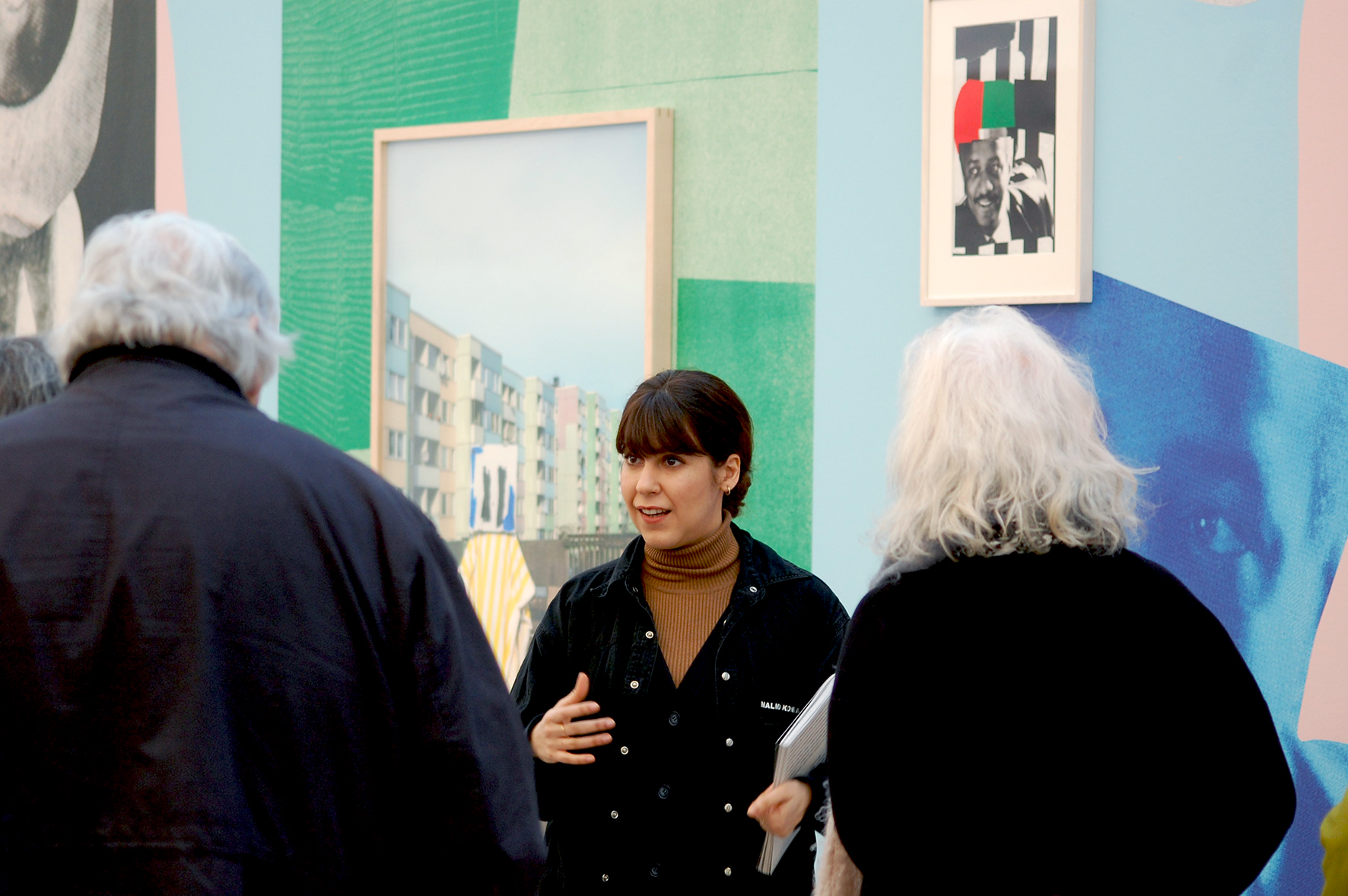 Tours
Immerse yourself in the current exhibition through our daily guided tours.
Tue-Fri at 14: short guided tour 20 min (in Swedish)
Wed at 18: long guided tour 45 min (in Swedish)
Sat & Sun at 14: long guided tour 45 min (in Swedish)
Admission free
We also offer tours in English. For private tours in Swedish or English contact: info.konsthall@malmo.se.
Guided tours are free of charge for schools within the City of Malmö.
Primary Schools & high school in other municipalities: SEK 800 Colleges & adult: SEK 800 Administrations within Malmö city: SEK 800 Private tours on weekdays during regular opening hours: SEK 1200 Private tours on weekends and evenings during regular opening hours: SEK 1800 Private tours outside of regular opening hours : SEK 9,000
–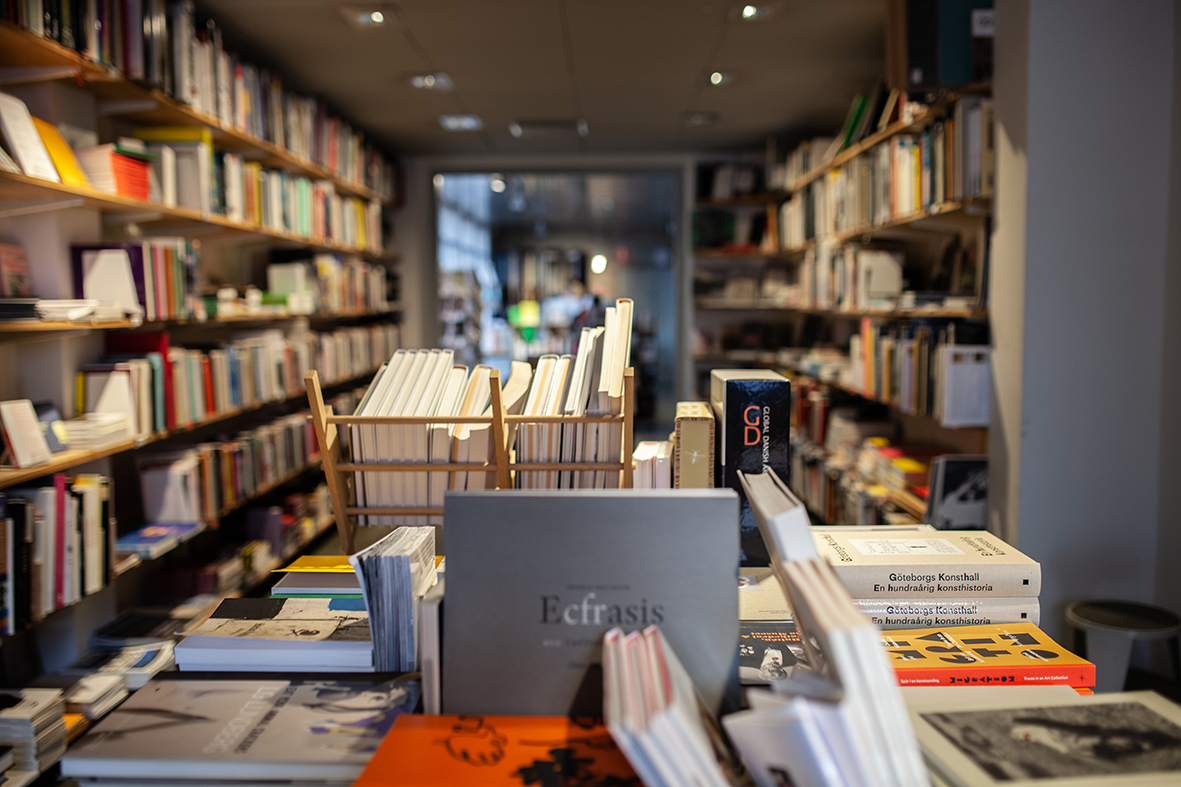 The Bookshop
Enjoy one ofe the largest and most diverse selections of art books in the south of Sweden. Here you can find the perfect gift for a friend, or expand your own knowledge of the contemporary art scene.
FAQs
Pushchairs can be parked along the walls of Mellanrummet, the space between the Smak restaurant and the bookshop.
Type of study visit: A dialogue-based tour of the current exhibition is given by an art educator Max number of participants: 30 people Cost: Schools (primary-high school) within the city of Malmö free of charge. Adult education & schools outside Malmö city: SEK 800. Business/Private: SEK 1,200 on weekdays, SEK 1,800 on weekends. The prices apply during regular opening hours. Booking requests are directed to info.konsthall@malmo.se
Bike stands are available at Triangeln train station, right next to Malmö Konsthall. The closest Malmö by Bike is about 100 meters away, on Pildammsvägen, by the football stadium.
You are welcome to photograph and film our exhibitions with your phone camera, but please be advised that in accordance with GDPR regulations, you are not permitted to photograph other visitors. Professional photography or photography with intent to publish or distribute the pictures requires our permission. Contact our Public Relations Manager Heidi Hakala (+46 (0)70 149 30 19, heidimatilda.hakala@malmo.se)
We offer storage lockers at both entrances. An unmonitored wardrobe is available by the entrance on S:t Johannesgatan (restaurant Smak).
Pets are not allowed in the gallery space, except for guide dogs. However, pets are welcome at restaurant Smak.
We receive many inquiries about collaborations of various kinds, or the possibility to use our space. We are open to collaborations and arrangements that align with our core activities or current exhibitions. However, we do not rent the space out for private events as the gallery is always in use, either for an ongoing exhibition or in preparation for the next.
You're welcome to contact us with your request: info.konsthall@malmo.se
There are several parking garages near Malmö Konsthall. The closest is P-hus Triangeln (open 24 hours).
The popular restaurant Smak is located in the same building as Malmö Konsthall. Find their opening hours and menu here.
Schools in Malmö can book guided tours of our current exhibition for free. Book your visit at bokning.konsthall@malmo.se, and make sure to give at least a week's notice.
A changing room/changing table is available at the Konsthall.
There are three parking spots for disabled visitors close to our entrances.
Taxi access by the entrance to restaurant SMAK – S:t Johannesgatan 7
Disabled toilet
The gallery is accessible for wheelchairs
We have portable stools in the Konsthall for those who need to rest their legs
Baby changing room with changing table
Konsthall guides and reception staff are available to answer your questions
Information on guided tours, digital tours, and bookings is available here (link to "Tours" under "Visit Us").
The bookshop of Malmö Konsthall is one of the biggest ones in Sweden focusing on arts. Read more about the book shop here.
Malmö Konsthall is operated by Malmö City, and the city's open network (City of Malmo) is accessible to our visitors.