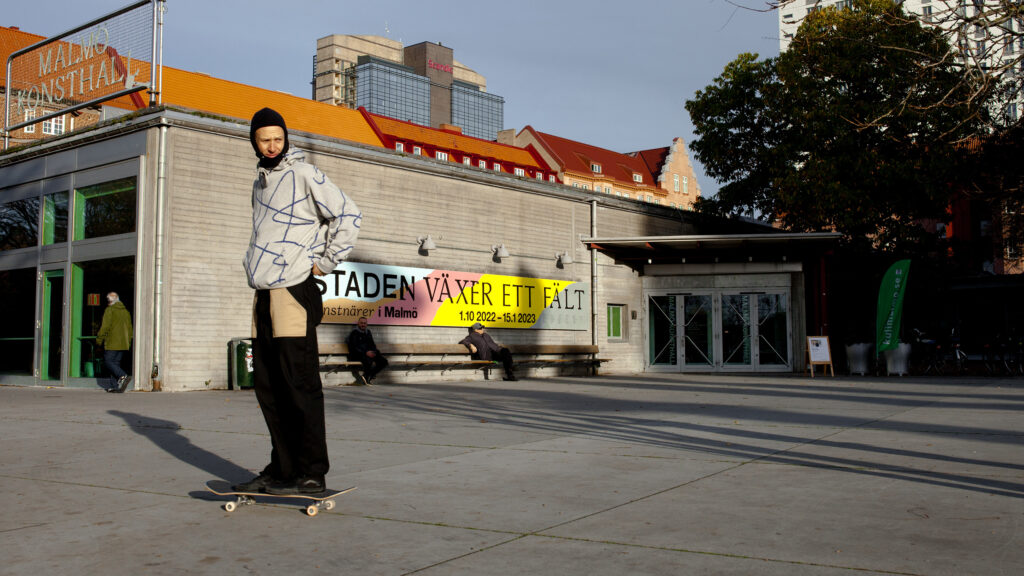 Visit and contact
In the heart of Malmö, near the Triangeln train station, Malmö Konsthall is located – one of the Nordic region's largest exhibition spaces for contemporary art. We have free admission to all exhibitions, workshops and programs.
Opening hours
Monday: Closed
Tuesday: 11 am – 5 pm
Onsdag: 11–19
Thursday: 11 am – 5 pm
Friday: 11 am – 5 pm
Saturday: 11 am – 5 pm
Sunday: 11–17
Closed
Christmas Eve
Christmas Day
Annandag jul
New Years Eve
New Years Day
Midsummer Eve
Midsummer Day
During installation, 16.1 – 3.2 2023. The book shop is open 11 am to 3 pm during installation periods.
Address
S:t Johannesgatan 7 Malmö
Postal address
Postal address Malmö Konsthall 205 80 Malmö
Goods reciept
Munkgatan 2
Contact
Find us
Malmö Konsthall is located next to the shopping centre Triangeln in central Malmö. You can easily get here by public transport, bicycle or on foot. Welcome!
By walking
Malmö Konsthall is located by the shopping centre Triangeln. It takes about 15 minutes to walk to Malmö Konsthall from Malmö C.
Train or bus
Station Triangeln for trains and buses. Stop at S:t Johannesgatan.
Bicycle
Bicycle parking is available outside the entrance to the restaurant and in the piazza outside Malmö Konsthall
Car
The nearest parking garage is the Triangeln parking garage.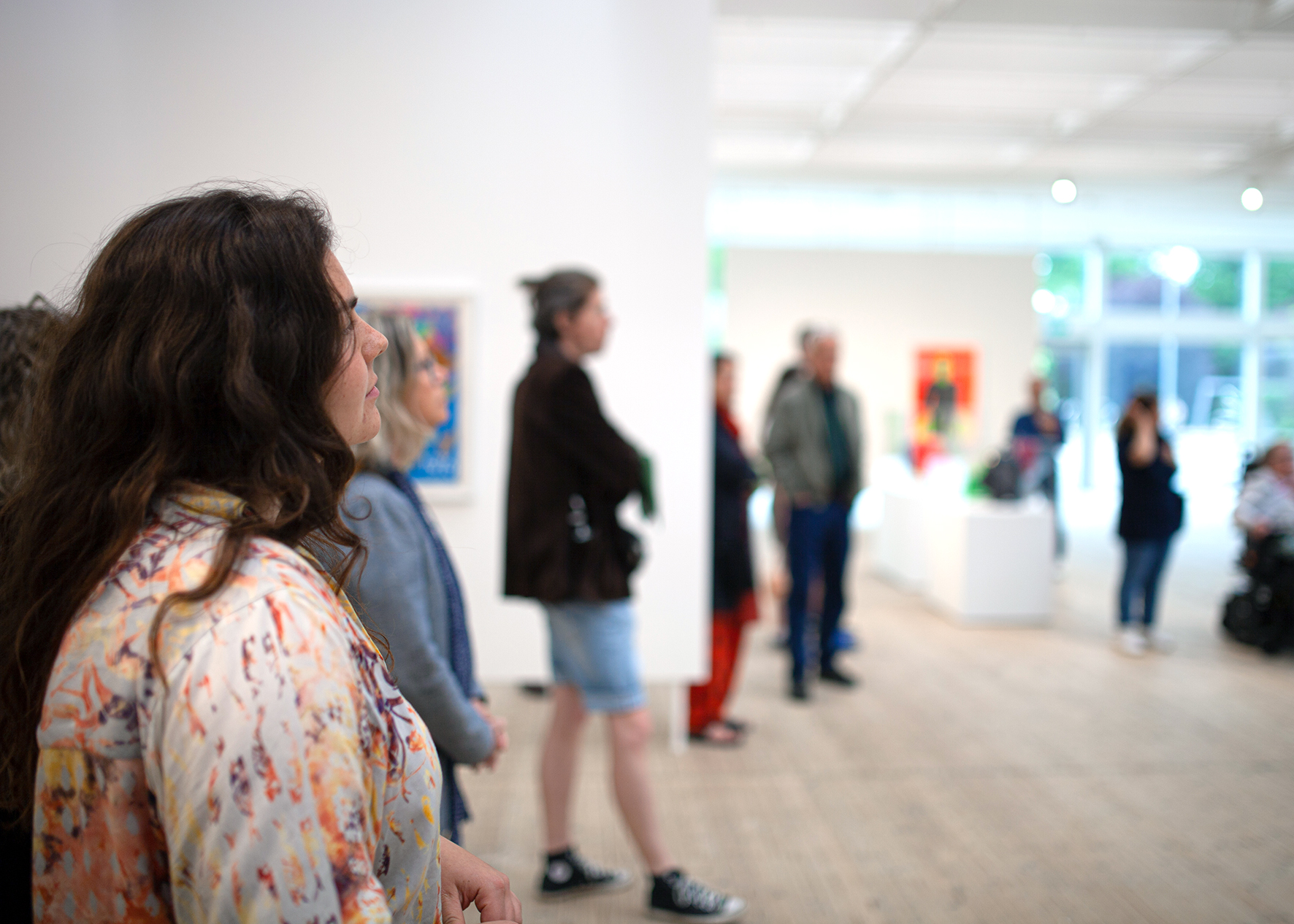 Tours
Immerse yourself in the current exhibition through our daily guided tours.
Tis–fre kl 14: kort visning ca 20 min
Ons kl 18: längre visning ca 45 min
Lör & sön kl 14: längre visning ca 45 min
Admission free No bookings
We also offer tours in English. For private tours in Swedish or English contact: info.konsthall@malmo.se.
Schools within the city of Malmö, tours are free of charge.
Grundskolor & gymnasium i andra kommuner: 800 SEK
Folkhögskolor & komvux: 800 SEK
Förvaltningar inom Malmö stad: 800 SEK
Visning på vardag under ordinarie öppettider: 1200 SEK
Visning helg och kväll under ordinarie öppettider: 1800 SEK
Visning utanför ordinarie öppettider: 9000 SEK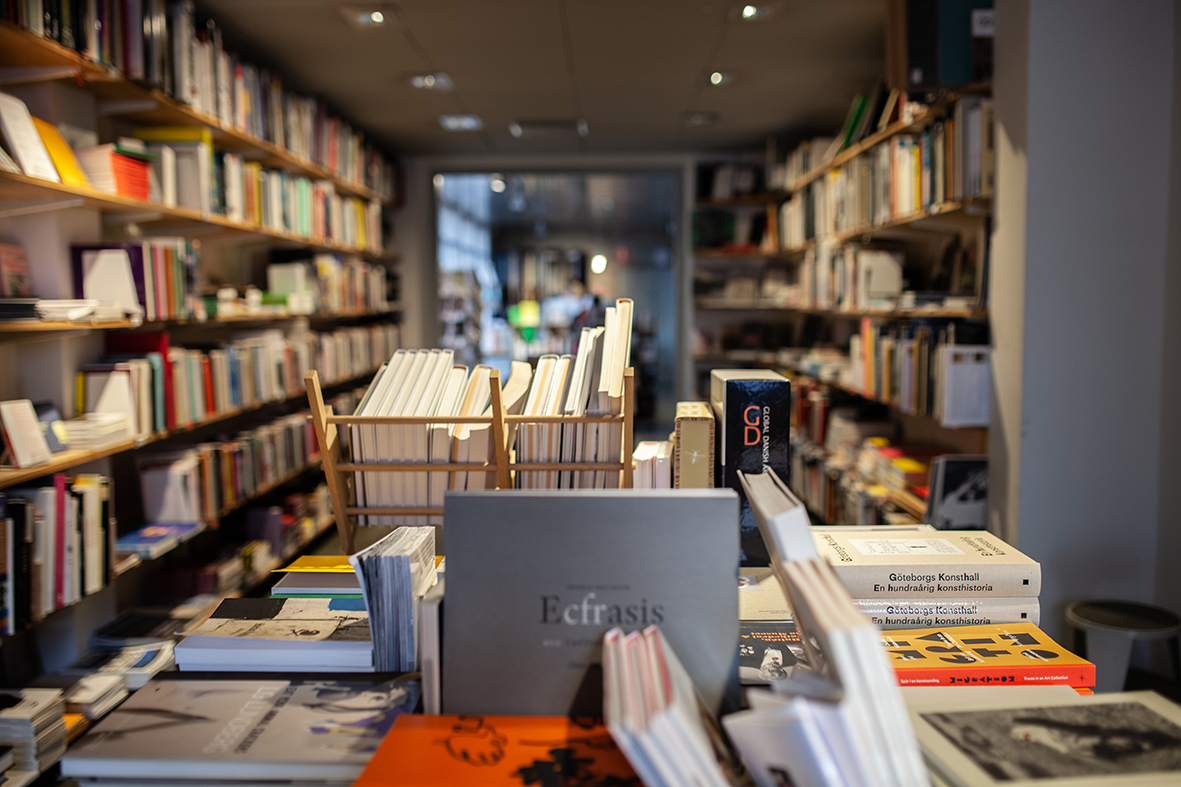 Bookshop
Since its founding in 1994, Malmö Konsthall's bookshop has offered the largest and most diverse selection of books on art in the South of Sweden. Here, you can find the perfect gift for a friend, or expand your own knowledge of the contemporary art scene.
Frequently Asked Questions
Prams can be parked along the walls of Mellanrummet, the space between the Smak restaurant and the bookshop.
Bike racks are available at the Triangeln railway station, right next to Malmö Konsthall. The closest Malmö by Bike is about 100 meters from here, on Pildammsvägen, by the football stadium.
You are welcome to photograph and film our exhibitions with your phone camera, but please be advised that in accordance with GDPR regulations, you are not permitted to photograph other visitors. Professional photography or photography with intent to publish or distribute the pictures requires our express permission. Such permission can be sought from our public relations manager Johannes Kjellgren (+46 (0)709 34 12 89, johannes.kjellgren(at)malmo.se).
We offer lockable storage lockers at both entrances. An unmonitored wardrobe is available at the entrance on S:t Johannesgatan (restaurant Smak).
Pets are not allowed in the gallery space, except for guide dogs. However, pets are welcome at restaurant Smak.
We receive many inquiries about collaborations of various kinds, or the possibility to use our space. We are open to collaborations and arrangements that align with our core activities or current exhibitions. However, we do not rent the space out for private events, as the gallery is always in use, either for an ongoing exhibition or in preparation for the next.
Feel free to contact us about your request (+46 (0)40 34 60 00, info.konsthall@malmo.se).
There are several parking garages near Malmö Konsthall. The closest is P-hus Triangeln (open 24 hours).
The popular restaurant Smak is located in the same building as Malmö Konsthall. Find their opening hours and menu here.
Schools in Malmö can book guided tours of our current exhibition free of charge. Book your visit at bokning.konsthall@malmo.se, and make sure to give at least a week's notice.
A changing room/changing table is available at the konsthall.
Det finns tre stycken parkeringsplatser för rörelsehindrade i nära anslutning till våra entréer, vändplatsen utanför konsthallen/restaurang SMAK
Taxi kan köra fram nära entrén till restaurang SMAK på S:t Johannesgatan 7
Handikapptoalett
Inga hindrande trösklar i konsthallen
Vi har bärbara vikstolar i konsthallen för den som behöver vila benen
Skötrum med skötbord
Konsthallsvärdar och reception som svarar på frågor
Information on guided tours, digital tours, and bookings is available here (link to "Tours" under "Visit Us").
The bookshop of Malmö Konsthall is one of the biggest ones in Sweden focusing on arts. Read more about the book shop here.
Malmö Konsthall is operated by Malmö city, and the city's open network (City of Malmo) is accessible to our visitors.