Queer home-making: Shitou and Mingming in dialogue with Unicorn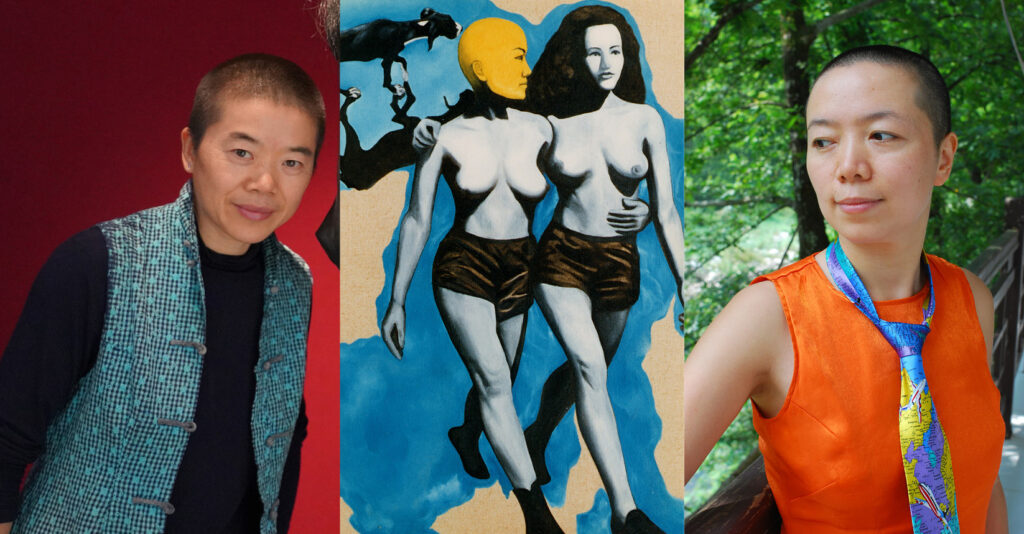 Queer home-making: Shitou and Mingming in dialogue with Unicorn
For over 20 years, artists and life partners Shitou and Mingming have been creating, carving, sustaining and disseminating a home: for them, as lesbians in modern-day China, and for their communities. A home they more than once needed to pick up and take with them on the road, replanting it at the edge of yet another village, carrying the legacy and manifesto of a queer generation from one place to another.
Queer women's stories are often scarce even in more egalitarian historical circumstances, and unmentioned in all others. Life and work partners Ramona Dima and Simona Dumitriu have witnessed this absence for years, as they, through research, unearth smaller and smaller pieces of surviving memories, like shards of broken terracotta, soon like grains of sand slipping between one's fingers. To know the stories which ground a queer person's present is a vital step in building a queer home, a hope of community, a chosen family. In the talk at Malmö Konsthall we will reminisce about such stories, finding the threads that unite them, attempting to build them a home once again, elsewhere.
Unicorn – Artists in Solidarity is a Malmö-based interdisciplinary group of cultural workers who organize workshops, reading groups, city wanderings as well as a well known artistic residency. Its members, who varied throughout the years, are brought together by their belief in art as a tool for social change, reparation, and community-making.
"In a picture taken by Shitou on August 2, 2008, on a hot summer afternoon, I am holding my naked baby, while mingling with lesbian artist couple Shitou and Mingming at their home in the eastern outskirts of Beijing. For me, it was a rare social moment while under surveillance and occasional house arrest, which defined my life as a rights activist in the 2000s. Interactions with members of the queer/artist community occurred through the friendships we forged. I felt at ease, loved, and cared for in Shitou and Mingming's home. These interactions have helped me gradually recover myself in the face of soft and relational state repression."

Jinyan Zeng, "Queering Community. Affect of Visuality in the Sinosphere", 2023
Information
What: Artist talk
When: Thursday 23.11, 18:30–20:00
Var: C-salen
No registration needed, admission free
The conversation takes place as an event during Förbjuden kulturvecka. More about Förbjuden kulturvecka (in Swedish).
Shitou (born 1969) is a Chinese activist, performer, filmmaker, multimedia artist, and queer icon. She has been active in the Chinese gay scene since the 1990s and was the first lesbian to come out on Chinese television. After starring in the lesbian-themed film "Fish and Elephant", Shitou directed several films, many in collaboration with her life partner, Mingming: "Dyke March" (2002), "Women Fifty Minutes" (2006) and "We Are Here" (2015). She is one of the initiators of the China Queer Independent Film group (CQIF, 2008).
Ramona Dima is a researcher in gender and queer studies specialized in South-Eastern Europe. Simona Dumitriu is an art producer, writer and curator.
Jinyan Zeng is a filmmaker and Postdoctoral Fellow at the Centre for East and South-East Asian Studies at Lund University. Her research focuses on gender and sexuality, culture and politics, intellectual identity and social activism, as well as ethnicity, with particular emphasis on China.
Related Events