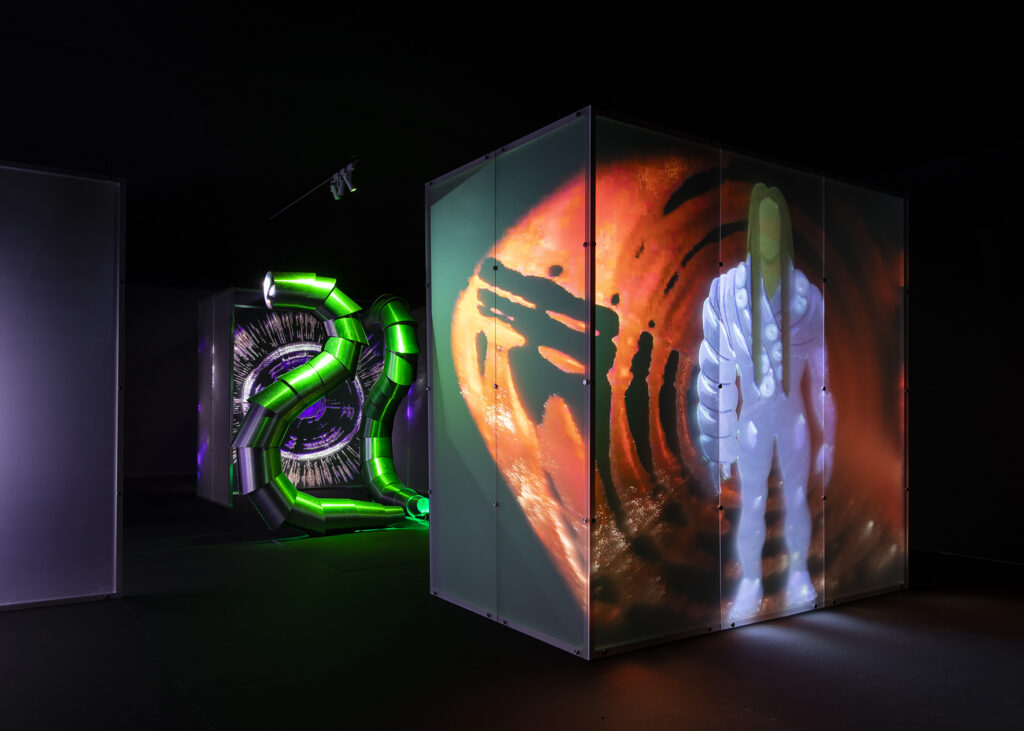 Closed Space, Open World
11.6–4.9 2022
Sandra Mujinga (born 1989, Goma) is a Congolese-Norwegian artist who works with a variety of techniques – including sculpture, video and textiles – around themes of surveillance, identity and visibility. Traces of both traditional craftsmanship and modern digital technology are evident in her work, resulting in a multifaceted visual language. Sandra Mujinga received the Preis der Nationalgalerie 2021 award in Berlin and is participating in the 2022 Venice Biennale.
Questions about identity and digital presence
Questions regarding identity and digital presence are often raised in Sandra Mujinga's work, for example in the form of "avatars" – the figures or characters that we choose to represent ourselves with and whose characteristics and features we can fully control. Within Mujinga's artistic practice is an exploration of the dynamics between colour and light, between black and the shade of green that functions today as a "green screen" – a void where anything can be introduced through digital postproduction.
A dark world inspired by science fiction
"In the work Closed Space, Open World" Sandra Mujinga utilises new technology as a starting point to open up a visual world inspired by science fiction, Afrofuturism and internet culture. Sandra Mujinga has created an installation where three monster-like sculptures project moving images of a figure – an avatar that Mujinga herself has made – on transparent plexiglass screens. Silhouettes of visitors blend together with the silhouette of the avatar, whose shape is inspired by cartoon superheroes and science fiction. The avatar can be described as a "posthuman" as it is neither animal nor human, real or imaginary, but rather shifting between all forms. The installation is immersed in Mujinga's characteristic green light, which links to the visual world projected but also creates a tangible physical presence in the exhibition space.
Sandra Mujinga lives and works in Oslo and Berlin. She studied at Malmö Art Academy between 2010 and 2015 and at the Academy of Fine Arts in Vienna in 2014. Sandra Mujinga has recently had solo exhibitions at Munchmuseet in Oslo, Vleeshal Center for Contemporary Art in Middelburg, the Netherlands, Croy Nielsen in Vienna and has created a work for the Swiss Institute in New York. Closed Space, Open World was originally commissioned for SOLO OSLO at MUNCH (2022).
---