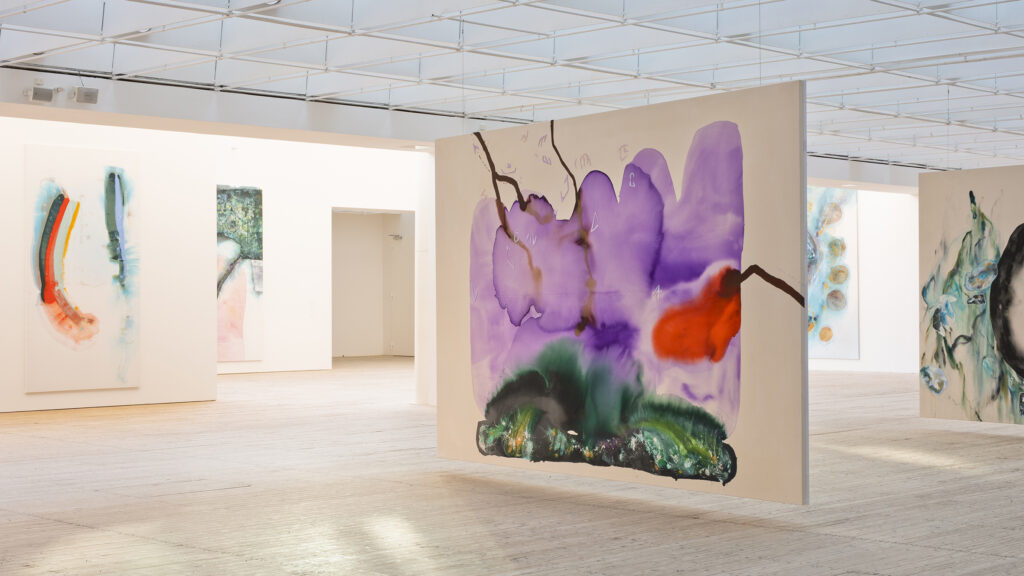 Ragna Bley & Inger Ekdahl
1.2–10.5 2020
Two female painters from two generations meet at Malmö Konsthall. Ragna Bley's large-scale paintings are characterized by organic, ever-changing forms and here they encounter one of the pioneers of modernism in Sweden, Inger Ekdahl.
An experimental artistic expression
Ragna Bley (born 1986) is a painter who experiments with form and material, text and language, time and space. Her large-scale paintings are characterised by organic, mutable forms–a collapsing geometry of fluid, elementary shapes that fray at the edges and ooze out. The paint appears to follow its own path, flowing in all directions. Her painting oscilliates between the depictive and the intangible. Bley´s oeuvre is distinctly experimental, and also includes sculpture and performance in which language and text serve as major components.
A procession through the exhibition space
This exhibition comprises several series of works, three of which were executed specifically for Malmö Konsthall. The paintings are arranged into a procession that makes its way through the exhibition space in both directions, imposing a new, different set of conditions for viewing and experiencing. Here two new series of paintings meet and are shown back to back. In the third series of works, Ragna Bley insists on giving the material 'autonomy'–granting free rein to its own will and plasticity. Five canvases prepared with colour pigments and various organic food items have been mounted in the gallery's courtyard. Here, the forces of nature will be incorporated into an ever-changing, largely uncontrolled painting process. This playful approach is also a nod to the artist's working methods in the space between unpredictable process and deliberate work. This exhibition at Malmö Konsthall is the first major presentation of Ragna Bley's work to be shown in Sweden.
A pioneer of modernism in Sweden
Inger Ekdahl (1922–2014) was a pioneer of modernism in Sweden, and one of the country's first female artists to work non-figuratively. After her passing in 2014, presentations in Malmö, Ystad, and Stockholm have raised awareness of her art. Inger Ekdahl, who hailed from Ystad, and who lived and worked in Malmö after 1977, leaves behind a highly consistent body of work in which her unique style of painting conveys both systematic ideas and powerful, visual qualities. For this presentation, Malmö Konsthall has made a selection of Ekdahl's works that ranges chronologically from the early 1950s to one of her last completed works, thus bookending an oeuvre that remains undiscovered by many.
Experimentation with colour, symmetry and geometry
Inger Ekdahl was a true innovator of Swedish art, who introduced many international influences to our national scene. In post-war Paris, she was exposed early on to influential artistic movements that emphasised experimentation with colour, symmetry and geometry. After initially focusing on explorations of action painting, her attention turned increasingly to harmonising symmetries and repetitive shapes, which she carried out to perfection. Ekdahl herself referred to her later paintings as 'systematic compositions'. Through play with light and geometry, they produce both three-dimensional, optic effects and sensations of rythm and movement.