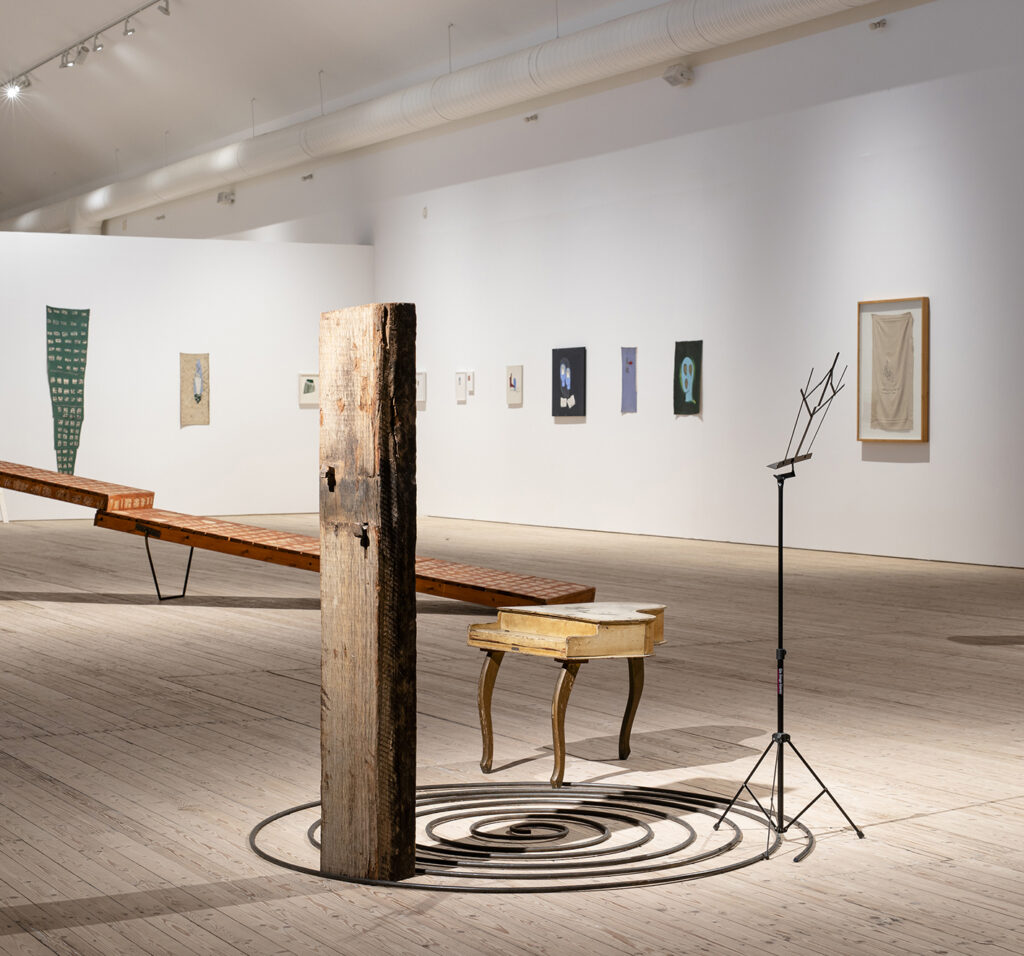 José Leonilson
Leonilson – Drawn: 1975–1993 19.6–10.10 2021
Leonilson – Drawn: 1975–1993 is the first major retrospective exhibition of the Brazilian artist José Leonilson to be shown in Europe. Leonilson (1957–1993) was one of the most important members of the generation of Brazilian artists that was referred to as the Geração 80 (Generation 80). After the collapse of the military dictatorship in Brazil in 1985, the Geração 80 celebrated their newly won freedom by painting in a colourful, expressive style. While the US art scene of the 1980s was seeking to update American pop art, for example by incorporating characteristic symbols of industrial society, the Latin American artists associated with Geração 80 were creating their works from a socially critical point of view.
Leonilson studied art in São Paulo 1978–1981, but chose to abandon his studies before finishing them, in order to develop his art production on his own instead. At this time, the Italian Transavanguardia of the 1970s and 80s, a movement that favoured figurative subjects and expressive colours, was a strong influence on his art. Also artists like Eva Hesse, Blinky Palermo, and Paul Klee would have a great impact on his creative efforts. There are tell-tale signs of what would come to characterise Leonilson's oeuvre even in the early juvenile works made before his art studies: an activity in which ideas and materials were sourced in everyday experience, and transformed into subtly poetic art objects strongly informed by the artist's personal relationships, particularly his romantic engagements with other men. The early work Vogue Ideal (fanzine, 1976) is evidence of Leonilson's fascination with fashion and textiles, and also reveals something about his family background. He grew up in a well-to-do family of textile traders in northern
Brazil. This work also expresses an unmistakable critique of conventional gender constructs, gender stereotypes, and the enormous divide between the poor and the affluent in Brazilian society. In the fanzine, which is a more or less plagiarised version of the Vogue fashion magazine, Leonilson published photographs and drawings of individuals who belonged to marginalised groups that he felt a kinship with. His sense of being an outsider was in part caused by his background in a place far from São Paolo, and in part by the discrimination of homosexuals that was so widespread at the time.
An exhibition of textile craft objects made by the American Christian sect known as the Shakers, which he saw in 1986, would be a turning point in his production. The skilled craftsmanship of the Shakers was evident in, among other things, embroidered maps decorated with symbols of nature, life on Earth, and a spiritual realm. This encounter with these esoteric yet rustic works became a powerful source of inspiration for Leonilson, that would lead him onto two connected paths, where he on the one hand prioritised textile works and embroidery, and on the other hand began to address the concept of disappearing and the vulnerability of the body as the main subjects of his art.
When Leonilson was diagnosed with AIDS in 1991, his visual idiom changed significantly. Between 1991 and 1993, when he passed away as a result of the disease, the deterioration of his health can be traced through his work, almost like reading a journal. Towards the end of his life, he worked mostly with needle, thread, and fabric, because of the physical toil that his condition took on him, and because he couldn't bear the smell of paint anymore.
Leonilson – Drawn: 1975–1993 gives an overview of Leonilson's entire oeuvre, and covers a wide range of expressions and styles. The exhibition was compiled at the KW Institute for Contemporary Art, Berlin, by curator Krist Gruijthuijsen. The Malmö edition of the exhibition was produced in collaboration with Moderna Museet in Stockholm and Malmö Konsthall.
Digital opening via Facebook and YouTube Friday June 18 at 18–18.30
The exhibition Leonilson – Drawn: 1975–1993 is produced by KW Institute for Contemporary Art, Berlin, in collaboration with Moderna Museet, Malmö Konsthall, and the Serralves Foundation – Museum of Contemporary Art, Porto. The exhibition Leonilson – Drawn: 1975–1993 was made possible by support from the German Federal Cultural Foundation.
The exhibition is being shown at Malmö Konsthall as part of WorldPride 2021 in Malmö and Copenhagen, and of Öppna Malmö, the city of Malmö's initiative to promote awareness about discrimination and racism, which runs from 2020 to 2022.