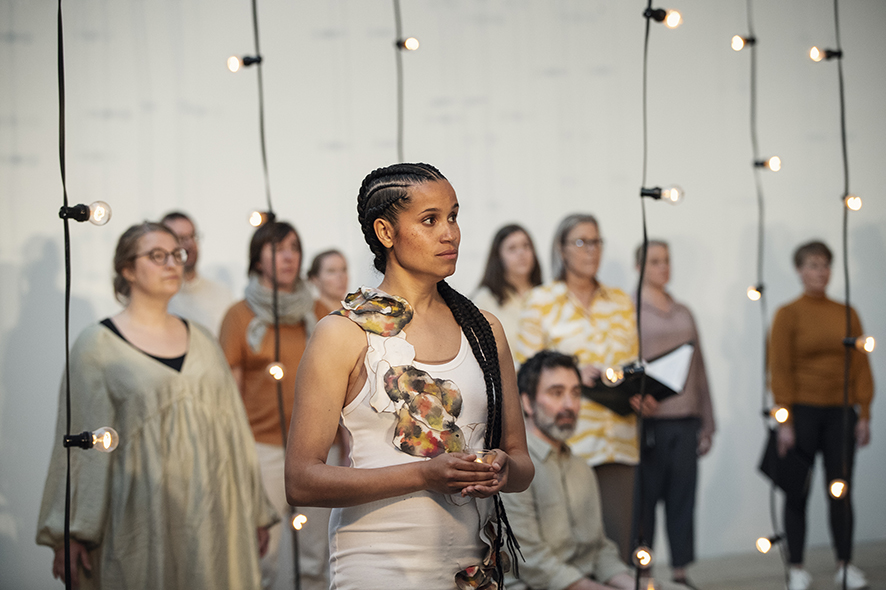 Glömskans arkiv
5.5 – 14.5 2023
"Glömskans arkiv" (The Archive of Forgetting) is a newly written choral work that deals with memory, grief and racial violence. The libretto is based on a poetry collection about Malmö, written by Felicia Mulinari and Athena Farrokhzad in dialogue with social movements. The performance examines which and whose words have constructed the story of Malmö and questions the narratives that have shaped our collective history. "Glömskans arkiv" will be shown at Malmö Konsthall under the period 5th-14th May. The shows are fully booked, but you can show up 10 minutes prior to start and get a seat if people who booked don't show up – we take in audiences according to space.
What stories become a part of our shared history? Whose words shape the narrative of Malmö? In a correspondence with representatives of social movements, Felicia Mulinari and Athena Farrokhzad have explored the role of memory and forgetfulness in the anti-racist struggle. Based on the responses, they have written a lyrical manifesto of memory that portrays the experiences of grief and struggle, but also beauty and community that the city carries within.
A performance in motion
The libretto is based on a poetry collection about Malmö, written by the poets Felicia Mulinari and Athena Farrokhzad. Through written exchanges with representatives from various social movements, they have investigated the role that memory and forgetting play in the fight against racism. "Glömskans arkiv" embodies a desire to show that it is still possible to interrupt the writing of history. Coming from internalised grief that relates to unjust power structures, the texts occupy a space that shifts between the individual and the collective.

The poem suite has been set to music by the composer Tebogo Monnakgotla and is performed by the Malmö Choir Petri Sångare under the direction of Karin Oldgren together with the soprano soloists Jacqueline Miura and Sanna Gibbs and the stage artist Miguel Cortés. Inspired by ceremonial circles and the movements of ritual, director Saga Gärde has collaborated with an artistic team to create a space where the public is positioned in the centre. The audience is guided through the performance by hosts Karrar Altameemi, Zakaria Aaspere, Kamal El Masr i and Hanan Sadek from the organization Hela Malmö. To Hela Malmö´s website.
Every performance lasts about 90 minutes and is followed by a discussion. There will be seven performances in total. The performance is free of charge but requires a seat reservation. "Glömskans arkiv" is the third collaboration between Malmö Konsthall and the performing arts platform Amfi, and the performance is played in the large exhibition hall of Malmö Konsthall.To Amfis website.
Art with roots in a citizen initiative
"Glömskans arkiv" is produced by Amfi, a platform for new dramaturgy, and is commissioned by the City of Malmö. The work is a part of the group exhibition Hela staden är ett monument (The Whole City is a Monument). The exhibition is presented within the framework of the project Antirasistiskt monument (Anti-racist Monument). The project came about due to activists' desire to remember the victims of the racist serial killer Peter Mangs, and since 2019 has been driven by an organisation in collaboration with the City of Malmö.More about "Antirasistiskt monument" (Anti-racist Monument).
Friday 5.5, 19:00–20:00 opening
Saturday 6.5, 13:00–14:00
Sunday 7.5, 13:00–14:00
Thursday 11.5, 19:00–20:00
Friday 12.5, 19:00–20:00
Saturday 13.5, 13:00–14:00
Sunday 14.5, 13:00–14:00
The performance is free, but requires a seat reservation.
You can also turn up 10 minutes before the performance – we will take in the audience if booked no-shows.
Age recommendation 10 years. It is not possible to bring infants/toddlers as this is a ride that requires silence.

On stage: Petri Sångare, Sanna Gibbs, Jacqueline Miura, Miguel Cortés
Audience hosts: Karrar Altameemi, Zakaria Aaspere, Kamal El Masri, Hanan Sadek
Composer: Tebogo Monnakgotla
Libretto: Felicia Mulinari, Athena Farrokhzad
Condictor:: Karin Oldgren
Director: Saga Gärde
Scenography: Katrin Brännström
Lighting design:: Ellen Ruge
Costume design: Sarah Nakiito
Costume assistant: Sharon Adams Video design: Thomas Romlöv
Graphic design: Sepidar Hosseini
Participating voices: Karrar Altameemi, Zakaria Aaspere, Nesrin Dabas, Kamal El Masri, Aina Gagliard, Wala Habib, Hanan Sadek

Production team

Producer: Gita Mallik & Elina Norrmo Ersgård
Production manager: Judit Wassrin
Technical coordinator: Uli Ruchlinski, Ben McIntosh
Technique:IMULTO
Graphic design: Hannah Baklien
Communication: Dorian Rudklint, Heidi Hakala
Education: Ylva Brännström
Director Malmö KOonsthall: Mats Stjernstedt
Head of Unit Malmö KonsthallL: Aurora Percovich Gutierrez
Curators for "Hela staden är ett monument": Rena Baledi, Anna Wahlstedt
More information about the participants
Athena Farrokhzad (b.1983) is a poet, playwright and translator. Farrokzhad's fourth poetry collection "Åsnans år" (Year of the Donkey) was published in 2022 by Albert Bonniers publishing house. She has recently started a new role as director of the Literature Stage at Kulturhuset Stadsteatern, together with Ida Linde. She has written plays for Dramaten (The Royal Dramatic Theatre), Unga Klara, Riksteatern (National Theatre) in Oslo and Swedish Radio, alongside "Krigerska" at Backa Teater, directed by Saga Gärde, which was acclaimed by critics and audiences alike. Since 2013, Farrokhzad's books have been published in fifteen languages and in 2021-22 she was awarded a residency with the DAAD Artists-in-Berlin programme. She has translated works by poets such as Adrienne Rich, Audre Lorde, Juliana Spahr and Natalie Diaz into Swedish.
Felicia Mulinari (b. 1990) is a poet, playwright, critic and activist. She made her debut as a playwright in 2018 with the play "Labyrint" (Labyrinth) at Malmö Stadsteater. Her first poetry collection "Det som inte kan utplånas" (That which cannot be erased) was published in 2019 by Albert Bonniers publishing house and is a poetry collection born out of a collective experience of racism and violence. It is a call to arms where anger is mixed with sadness, pride with shame, where the exile and vulnerability of mothers can be transformed into the solidarity and resistance of children.
Saga Gärde (b. 1979) is a director working with performing arts, sound and film through documentary processes. In her work as a theatre director, she weaves together documentary materials, sound and music with new dramaturgy to form performances with principles applied from musical composition. Gärde's acclaimed production of Athena Farrokhzad's "Krigerska" at Backa theatre in 2020 intertwined scenes based on interviews with Backa theatre's ensemble and performed them as a sound composition. Gärde and Farrokhzad's previous collaborations include Farrokhzad's debut "Vitsvit" (White suite) (2013), "Brev till en krigerska" (Letter to a warrior) (2016) for Swedish Radio and "De som sår" (Those who wound) (2020), a 11-minute-long public sound work installed by Rosengård Centrum shopping centre. In 2018 she staged "Labyrint" by Felicia Mulinari at Malmö Stadsteater, which later won a prize at the Performing Arts Gala in 2019. Gärde has been the artistic director at Amfi since 2020 and directed productions including "Terroristens kropp" (The Terrorist's Body) by Christina Ouzounidis, "Förlustens rumtid" (The Spacetime of Loss) by Balsam Karam and "Svaghetens parti" (The Weakness Party) by Felicia Mulinari.
Tebogo Monnakgotla (b. 1972) is a composer born and raised in Uppsala. She started playing the cello in primary school and studied cello and composition at the Academy of Music in Piteå and Stockholm. Monnakgotla holds a diploma in composition from the Stockholm Academy of Music. She gained international recognition with her work "Bambu i björkars språk" (Bamboo in the Language of Birches), which was awarded a prize by the International Rostrum of Composers at the European Broadcasting Union. Monnakgotla has composed over 40 works for several ensembles, including the Royal Stockholm Philharmonic's premiere of "Light Years Away – Supernova!", the Swedish Radio Symphony's Wishing, the Radio Choir's premiere of Naissance du jour and the Swedish Music Publishers Association's prize-nominated Five Pieces for String Trio, premiered by the Chamber Ensemble Zilliacus-Persson-Raitinen. Tebogo Monnakgotla was Swedish Radio P2's Composer in Residence from 2007-2009.
Sanna Gibbs (b. 1986) is an opera singer. She received her diploma at the Opera College in Stockholm and has attended vocal training at Operastudio 67 and Kulturama in Stockholm. Gibbs is active as a soloist in opera productions, concerts and chamber music contexts. On her way to becoming a musical artist, she discovered opera and brings with her a wide range of musical styles, dance and physical theater that she incorporates into her stage work. Among other things, Gibbs has sung Papagena in "Trollflöjten" and a critically acclaimed Musetta in "La Bohême" at the Royal Opera in Stockholm, Lucy in "Tolvskillingsoperan" at Folkoperan, Juliette in "Roméo et Juliette" at Malmö Opera and Riksteatern, and Fiordiligi in "Così fan tutte" at Folkoperan in Stockholm and Uppsala Stadsteater.
Jacqueline Miura (b.1964) is an opera singer and actor. She began her career as a mezzo-soprano. She debuted as Lucretia in "The Rape of Lucretia" by Benjamin Britten at the Royal Northern College of Music in Manchester. Thanks to a scholarship from Christina Nilsson and the Academy of Music, she was able to continue her studies at RNCM and participate in Masterclasses with, among others, Thomas Hampson and Brigitte Fassbeander. After obtaining his diploma, Miura has appeared on many opera stages: the Royal Opera in Stockholm, the Baden-Baden festival, Opera de la Bastille (Paris), English national Opera and The Royal Opera House & Covent Garden in roles such as Carmen, Jeanne D' Arc and Dorabella. She has sung with many well-known conductors, including Michael Tilson Thomas, Andre Previn and Kent Nagano in L'enfant et les Sortileges (Ravel), Le Martyr de Saint Sebastien (Debussy), Bernstein's Candide and the White House Cantata. In modern opera, Miura has premiered many roles written for her by, among others, Dominique Le Gendre, Errollyn Wallen and John Harle.
Miguel Cortés (b. 1964) is a choreographer, stage artist, producer and one of the initiators and driving forces behind the collaborative platform Flytande Galleriet. In his practice, he works with body, multimedia and text where contemporary dance forms a sounding board, colored by a career spanning over 30 years in contemporary dance, theatre, film and musicals. In his work, Cortés often starts from social issues which govern and leave their mark on the choice of means of expression. Embedded in a cross-artistic context, body, media, space and text are given place in the search for the dialogical. The focus of Corté's explorations is often the interpersonal encounter and various states in the spaces between where we perceive and experience ourselves in the world.
Petri Sångare is a chamber choir based in St Petri church in Malmö. The choir has a broad repertoire with a focus on contemporary Western art music. Petri Sångare's main genre is a cappella music, but the choir also regularly performs standard works from the 18th and 19th centuries in collaboration with the Malmö region's leading musicians.
Karin Oldgren is a trained church musician, choir and orchestra conductor at the Royal Academy of Music in Stockholm. Oldgren has had long-term involvement as a church musician in various parishes in Stockholm, most recently in Engelbrekt's parish, where in 2016 she founded Hjorthagen's chamber choir and Hjorthagen's vocal ensemble, which in a short time achieved great success both domestically and internationally. In addition to her work as a church musician, Oldgren has also led the men's choir Stockholm's student singers, was a lecturer in choral singing and choral conducting at the Academy of Music in Örebro, worked for a music publisher and freelanced as a teacher and conductor, among other things with recurring assignments for the Radio Choir. In 2016, Oldgren was awarded the Stockholm Stift's Cecilia prize and in 2019 was named Choir Leader of the Year by the Association of Swedish Choir Leaders and the Rosenborg Foundation