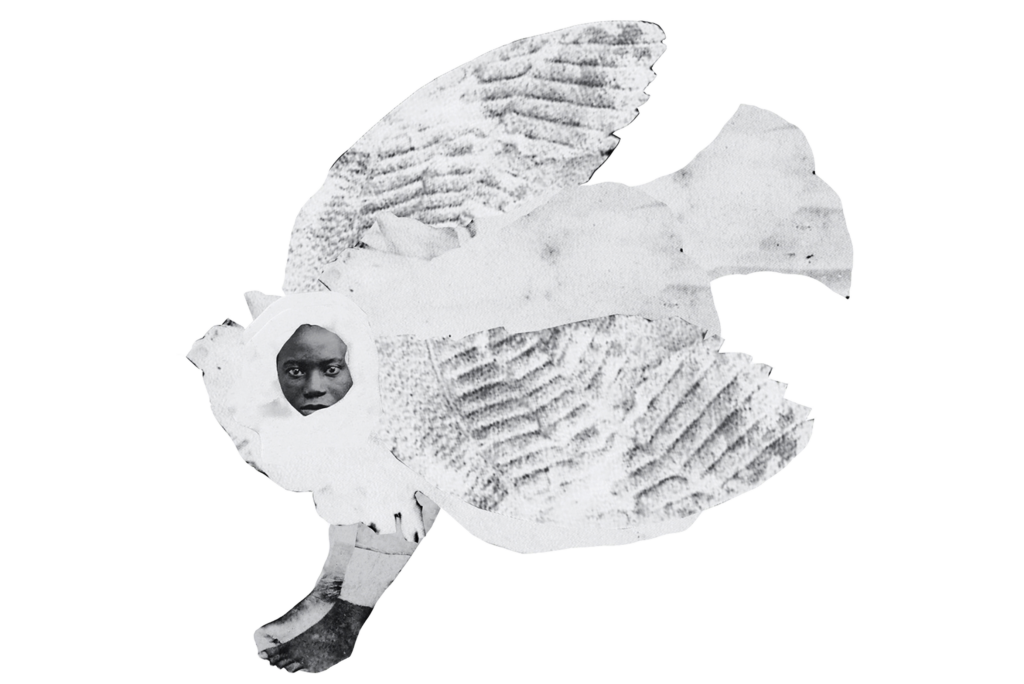 FLIGHT
4.2 – 9.4 2023
What happens when we sift through history and its dark repositories? The exhibition FLIGHT at Malmö Konsthall presents burning, critical and unrelentingly defiant artworks by Kudzanai Chiurai, Frida Orupabo and Eric Magassa.
FLIGHT unfolds in a sequence of scenes that set the viewer in fluid time and place. Each installation is constructed from painstaking excavation and purposefully veers in and out of the past and present. The exhibition grapples with dissonance; beauty and grit, colonialism and freedom, and that which is yet to come. 
The word 'flight' evokes a myriad of visual metaphors and sensations – flying, breaking free, falling. In this exhibition it works as a linguistic signifier and as a place for the viewer to orient themselves in and engage with the expressions presented. Its omnipresence is there to entice and lead into worlds of tangible narratives, abstractions and critical fabulations. FLIGHT is formed through a range of mediums including collage, photography, sound, video and printed matter. The effect created is an immersive site of frequency, rhythm and vividness.
A common thread ties the artists' works together: their emphasis on remembrance and reckoning. Throughout the exhibition the automatic response of fight-flight-freeze and its effects on everyday life can also be discerned. Kudzanai Chiurai's archival work, The Library of Things We Forgot to Remember, transports us to Pan-African liberation struggles against colonial rule. The work is all-consuming and pulsates with resistance. Frida Orupabo presents an assemblage of collage works that depict abstracted Black figures that are eerily present and unflinching. Eric Magassa's large-scale installation opens passages into vastness. He distorts and disturbs, forging ways outside of conformity and symmetry. The impressions in his collages are far-reaching and anachronistic.
The exhibition FLIGHT, curated by Tawanda Appiah, is about what comes to the surface when we examine our history with a critical eye. It is a celebration of three important artists of our times who have significantly added to contemporary art. At Malmö Konsthall, their collective presence is there to remind us to confront the past in the imagination of futures.
Meet the artists in FLIGHT
---
Kudzanai Chiurai was born in 1981 in Harare, Zimbabwe, where he lives and works today. He incorporates various media into his work, which is largely focused on cycles of political and economic inequality, and conflict resolution in post-colonial societies.
The exhibition FLIGHT brings Kudzanai Chiurai's The Library of Things We Forgot to Remember to Malmö for the first time. Founded in 2017, it is an audio and visual archive of Black resistance, solidarity and collaboration. The library houses an extensive collection of sound recordings and works on paper that are linked to various liberation movements of the African continent and beyond. The vinyl collection, in particular, includes Zimbabwean Chimurenga music as well as sounds from the South African anti-apartheid struggle.
At Malmö Konsthall, The Library of Things We Forgot to Remember is constructed to stretch across Klas Anshelm's architectural design, marking it with various processes of decolonization. Central to the installation is a new work by Chiurai that borrows its name from Radio Freedom, an underground station of the South African liberation movement, the African National Congress (ANC), and its fighting wing uMkhonto we Sizwe (Spear of the Nation). The station was 'underground' because listening to it was banned by the South African government, and anyone caught doing so could be subjected to penalties as severe as eight years imprisonment. The piece echoes transnational guerrilla radio stations that were pivotal in the building of collective resistance and solidarity against colonial imposition. The installation is aural and visual in its makeup and requires active listening and engagement.
Chiurai is one of the most celebrated African contemporary artists. He has held numerous solo exhibitions and has participated in various group exhibitions. His Conflict Resolution series was exhibited at dOCUMENTA (13) (2012) and his film Iyeza was one of the few African films to be included in the New Frontier shorts programme at the Sundance Film Festival in 2013. Recent exhibitions include Regarding the Ease of Others at the Zeitz Museum of Contemporary Art Africa in Cape Town, South Africa (2017) and UBUNTU: a Lucid Dream at the Palais de Tokyo in Paris (2020).
Frida Orupabo was born in 1986 in Sarpsborg, Norway, and lives in Oslo. Her work consists of digital and physical collages in various forms, which explore questions related to race, family relations, gender, sexuality, violence and identity.
Orupabo's archive has been described as 'wayward'; 'errant, fugitive, recalcitrant, anarchic, wilful, reckless, troublesome, riotous, tumultuous, rebellious and wild,' in the words of African American Studies academic Saidiya Hartman. Viewing it feels like trespassing, a visceral act of sight that settles under the skin.
Orupabo makes analogue and digital collages as well as video installations from salvaged visual material. The subjects she pulls out from archival records are often Black women who are unidentified and overlooked in history. She breathes life into them through a conscious process of selection, dissection, disassembling and reassembling. The figures in her work are abstracted and recomposed through obstruction. She pays close attention to the gaze, ensuring that it is primarily directed towards the viewer. Discomfort is the effect often produced which nurtures a space in which to question how and where one stands in relation to history.
Orupabo has exhibited widely, including participating at the 34th São Paulo Biennial (2021) and 58th Venice Biennale (2019). Recent solo exhibitions have taken place at the 53rd edition of the Rencontres d'Arles, France (2022); Fotomuseum Winterthur, Switzerland (2022) and Kunsthall Trondheim, Norway (2021). She was shortlisted for the 2021 Future Generation Art Prize.
Eric Magassa was born in 1972 in Gothenburg, Sweden, where he lives and works today. He is a multidisciplinary artist, combining mixed-media collage, painting and photography. He explores issues of identity, its intermediary nature and its connection to memories and places.
Magassa has roots in Sweden, France and Senegal, which are often mirrored in his work. His approach is that of dislocating narratives, regularly using the mask as an object of contention. African masks have a direct influence on twentieth-century modern art and can be found in the works of canonised European artists such as Pablo Picasso and Henri Matisse. Magassa speaks back to art history by taking back the mask and reappropriating it through a culturally connected lens.
As part of FLIGHT, he has created a hypnotic large-scale collage installation that rings with sound and rhythm. He works with curiosity, experimentation and intuition. One of the figures that peers out of his installation is the late African American conductor Dean Dixon (1915–1976). Dixon was the Artistic Director of the Gothenburg Symphony Orchestra from 1953 to 1960 and left Sweden due to various reasons, including racism. Together with Dixon, Magassa disrupts Sweden's self-narrative of innocence and exceptionalism.
Recent exhibitions include Marres House for Contemporary Culture, Maastricht, Netherlands (2021); Gothenburg International Biennial for Contemporary Art GIBCA (2019); Valongo Festival, Santos, Brazil (2019); Alingsås Konsthall, Sweden (2019) and Moderna Museet Stockholm, Sweden (2018).
Tawanda Appiah is a Zimbabwean independent curator and writer based in Malmö, Sweden. He has curated several exhibitions and interventions including co-curating the GIBCA Extended exhibition in 2021. His research-centred practice often visits history to make sense of the contemporary milieu. Appiah sits on various boards including Paletten Art Journal.
---