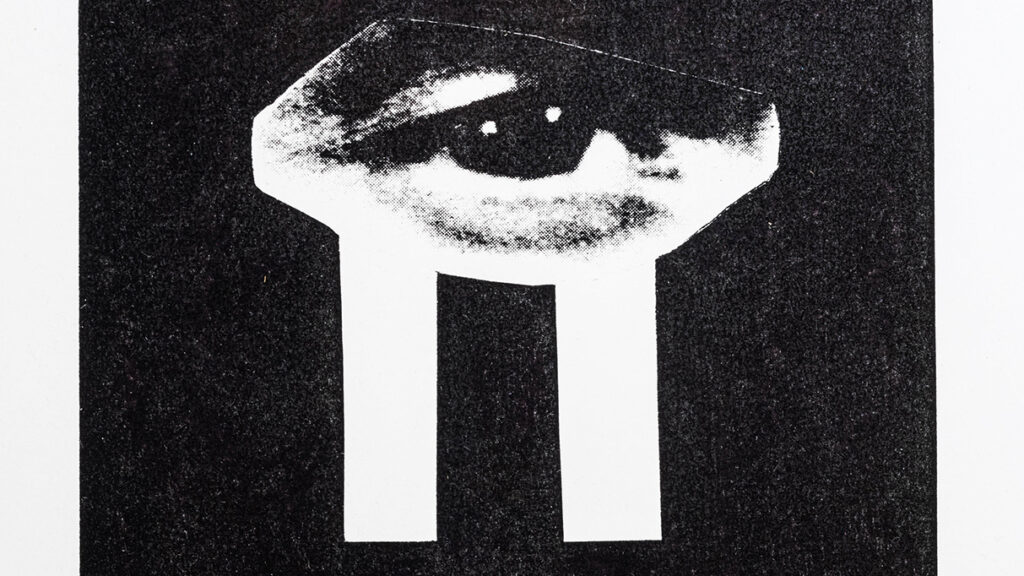 Åke Hodell: Motstånd
19.3–22.5 2022
ÅKE HODELL (1919–2000) was a Swedish fighter pilot, poet, author, publisher, composer, painter and graphic designer. Hodell's life was driven by an attitude of unrelenting resistance. He started out writing plays, then trained as a fighter pilot and later became an artist. His career as a fighter pilot ended abruptly in 1941, when he crashed his plane in an airfield in Skåne during a training session. After a long-term hospitalisation in Lund, he began working with a children's theatre in Folkets Park in Malmö.
Dadaism was an early influence in Hodell's work, in particular the collage methodology of Kurt Schwitters in which language takes on a material dimension as texts are cut up and rearranged. Hodell often used a typewriter for this purpose and a hole puncher to remove and censor material. His early collages are partially based on his experiences from the Second World War.
Hodell was one of the central figures of the Swedish avant-garde in the 1960s, and one of the first Swedish practitioners of a new direction of poetry that became known as concrete poetry. He was part of artist groups such as 'the z-group' and Svisch, that toured nationally with happenings and exhibitions.
Repetition as an artistic strategy is visible throughout Hodell's practice. This approach can be traced back to his experiences of discipline at school but also to his time in the armed forces. Hodell linked the concept of repetition to the automation of mankind through information society: from the dehumanising death camps of the Nazi administration to industrialisation's automation of labour through time- pressured work and assembly lines.
The trauma of the plane crash is an underlying motive that recurs frequently in various forms within Hodell's work. His artistic practice is rooted in a strong identification with revolutionary movements such as the Black Power movement and engages on a wider level with both playful and deeply serious strategies of resistance against white power, capitalism and war.
The exhibition Åke Hodell – Motstånd (Resistance) at Malmö Konsthall is curated around five key themes; Motstånd (Resistance), the fundamental element of anti-militarism and the critique of capitalism and white power movements that characterise Hodell's artistic practice. Automatisering (Automation), where repetition as working method plays a central role. Black Power, with work created in solidarity with the movement. Identifikation (Identification), where Hodell adopts the identities of deceased writers as an artistic device to high- light contemporary oppression and injustices. Finally, Döden (Death), featuring works that developed from experiences of the Second World War.
Exhibition curator Elena Wolay has invited the artists Loulou Cherinet, Catherine Christer Hennix and Ulla Wiggen to participate in the exhibition in order to traverse dimensions of time through parallel presentations, to suggest affinities and to illustrate connections to Hodell's work.
LOULOU CHERINET (born 1970) is a Swedish-Ethiopian artist working with film and video installation. Cherinet previously worked with large- scale, sculptural outdoor paintings but shifted her focus to narrative structures and multichannel video installations where montage is given spatial form. She has been a Professor of Fine Art at Konstfack, University of Arts, Crafts and Design, in Stockholm since 2015.
CATHERINE CHRISTER HENNIX (born 1948) is a Swedish musician and sound artist who has been active since the 1960s. Hennix is internationally recognised as a central figure in the minimalist and drone-based music scene and is also a mathematical logician, visual artist, philosopher and poet.
ULLA WIGGEN (born 1942) is a Swedish artist and psychotherapist. She took an early interest in electronic components and started to depict the inner workings of machines. Her paintings of electronics quickly attracted international attention and were first exhibited in the 1960s. Ulla Wiggen is participating in the Venice Biennale 2022.
The exhibition Åke Hodell – Motstånd was conceptualised by Elena Wolay in collaboration with Fia Backström and was shown at Tensta Konsthall 2020–2021. This presentation at Malmö Konsthall is a development of the first exhibition and has been curated by Elena Wolay. The work 220 Volt Buddha has been produced in collaboration with Kalmar konstmuseum.