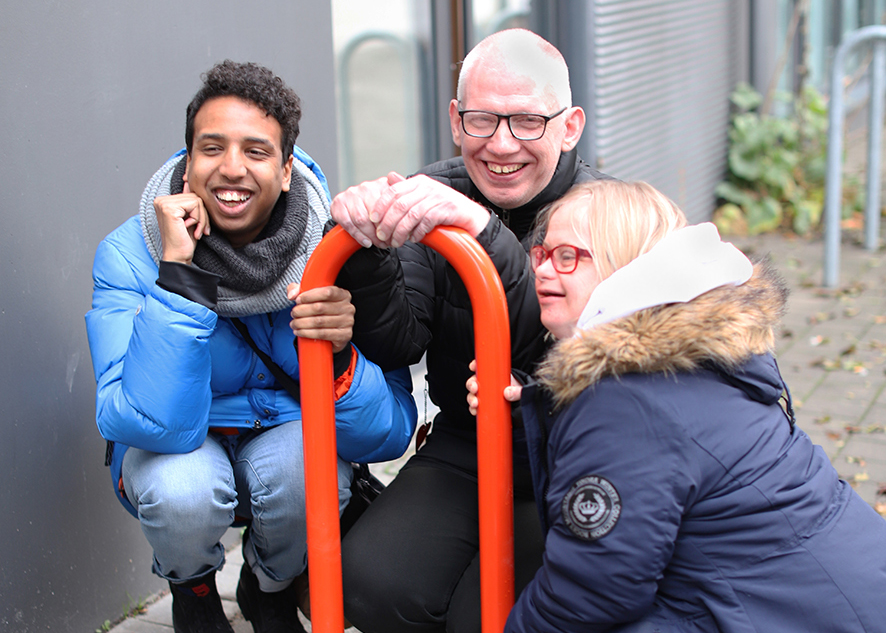 Public art commission in Sofielund
The first public commission process to be part of project Konstlyftet took place in 2021. During the spring and summer months, participants from LSS* put together a concept for three public artworks that were inaugurated in the housing block Trevnaden in Sofielund in October.
The work was created by Anna Jakobsson, Uffe Reinholdsson and Maxmud Warsame Haji, participants from Holmgången's daily activity centre in Malmö. The process was led by artists Karin Hasselberg Mang and Cecilia Wendt in collaboration with Malmö Konsthall, the Disability Support Office of Malmö City and MKB Fastighets AB (real estate company).
Anna Jakobsson's work Hylla (shelf) is made up of different coloured laminated photographs on the glass façades facing Rolfsgatan och Lantmannagatan.
Jakobsson largely communicates with images and takes her camera with her everywhere she goes. She uses the photographs to talk about her everyday experiences. The images for this piece were selected to mediate a representation of daily life, creating a work that is personal without being overly private. The images have been cropped to a hexagonal shape and the colours have been inspired by architecture.
Maxmud Warsame Haji's work Grön grön grön (Green Green Green) is a personalised bicycle stand installed by the entrance to Lantmannagatan 25. The bicycle stand is similar to others that are nearby but is painted in the exact same shade as the inner lining of Warsame Haji's jacket. Through the work, he wishes to spread the colour and joy that he experienced during the Pride festival.
Uffe Reinholdsson's work has a long title: the music with and you with again about together with lotta engberg with and idea with beer and the wine with the strawberry ice cream about the smell of flowers with the table. It is a woven picnic blanket, with additions of tulle and screen-printed details. Reinholdsson wanted to recreate a sense of summer, relaxation and community with his picnic blanket. A sketch was created in natural scale, photographed digitally and then woven at the Swedish School of Textiles in Borås. Reinholdsson often works with text; the poetic stanzas of the title are woven into the blanket. The work can be found by the entrance to Lantmannagatan 25.
Information
Find the works using the app MKB Konst on Google Play.
*LSS – The Swedish Act concerning Support and Service for Persons with Certain Functional Impairments.