Woman Life Freedom: Together we create the weaver of resistance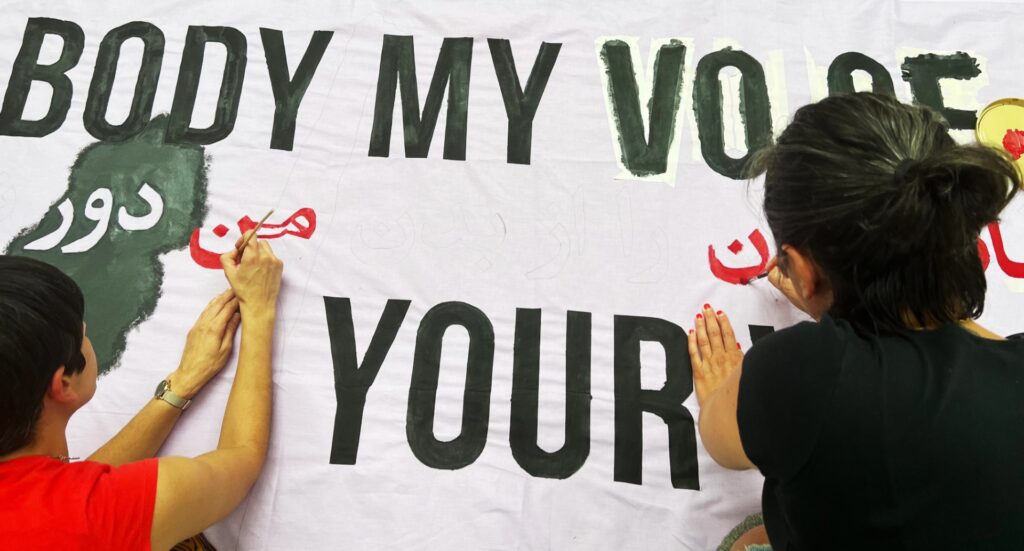 Woman Life Freedom: Together we create the weaver of resistance
Nearly a year has passed since the state-sanctioned murder of Jina (Mahsa) Amini, a 22-year-old Kurdish woman – the murder that ignited the Jin, Jiyan, Azadi revolution. Feminists for Jina (Sweden) invites you to a workshop at Malmö Konsthall where we share thoughts, concerns, and hopes as we collectively create a protest banner – a symbol of solidarity, protest, and remembrance.
The murder of Jina (Mahsa) Amini sparked a widespread uprising where women, queers, transgender individuals, and other oppressed groups acted as vanguards for the Jin Jiyan Azadi revolution – a struggle that continues today. Feminists for Jina (Sweden) welcome everyone striving for a world where gender, sexuality, class, nationality, ethnicity, and religion are not grounds for oppression, to a workshop and a day filled with solidarity at Malmö Konsthall. During the workshop, we will engage in discussions, watch a documentary, listen to presentations, read letters and messages from Iran, and enjoy live music, all while collectively creating a protest banner through painting, sewing, and writing.
The workshop invites all, regardless of identity and background, to participate. Whether you're an experienced artist or simply passionate about supporting women's rights, you can contribute to a struggle that transcends borders. Using the banner as our canvas, we will blend colors, ideas, emotions, and stories that reflect the diversity and strength of the global community behind Jin, Jiyan, Azadi. We will provide images and slogans for screen printing on fabric – feel free to bring your own t-shirts and/or cloth bags.
Programme
11:00 Workshop opens
11:15 Welcome speech
11:45 Text by Asma Balouch (activist) read by the organizers
12:00 Voices of Resistance – PEN Malmö reads texts from Iran
13:00 Lecture by Azar Mahloujian (author)
13:45 Lecture by Fataneh Farahani (professor of ethnology)
Break
14:15 Live music with Maryam Javidmehr (musician)
14:30 Lecture by Kaveh Kermanshahi (activist)
15:15 Lecture by Diana Mulinari (professor of gender studies)
16:00 Lecture by Samira Moatazedi (author)
16:30 Voices of Resistance – PEN Malmö reads texts from Iran
16:45 Closing conversation
The program is organized by Feminists for Jina (Sweden) in collaboration with Malmö Art Hall, PEN Malmö, ABF Malmö, and KKV Graphics in Malmö.
Information
What: Workshop
When: Sat 2.9 at 11–17
Where: The Workshop
Drop in, free entrance
Related Events