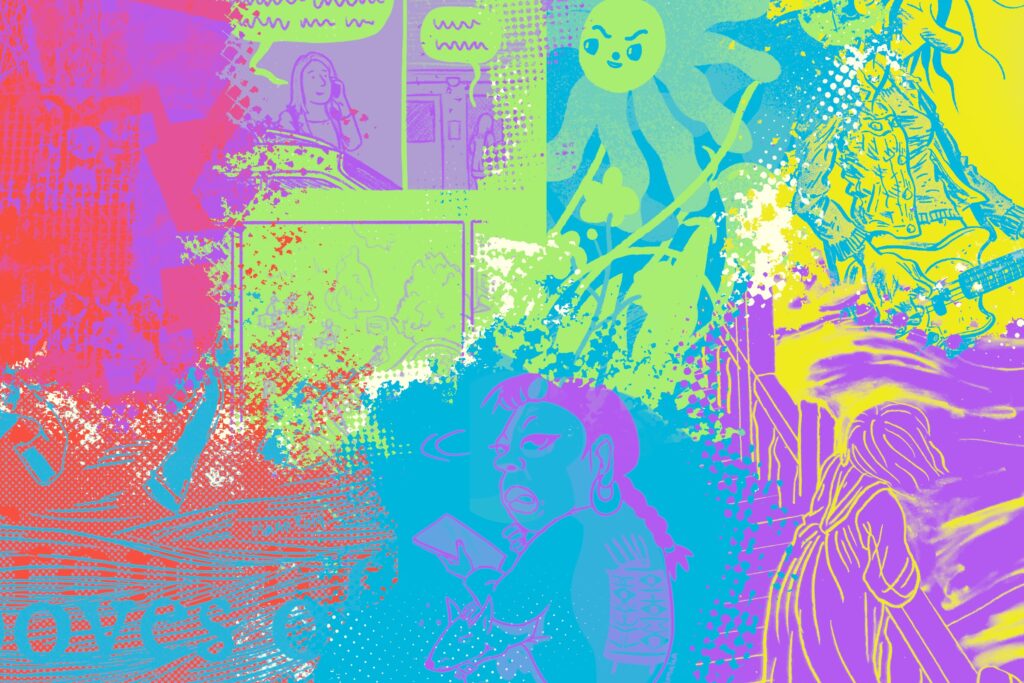 Worlds in Print – Seven Comic Artists from Malmö
29.11 – 17.12 2023
25 years ago, the concept of "Comic City Malmö" was coined, and the development of comic art gained momentum. Malmö Konsthall celebrates the 25th anniversary of comic art with the exhibition "Worlds in Print – Comic Artists from Malmö", curated by Gunnar Krantz, in Verkstan. Participating artists include Amalia Alvarez, Oskar Aspman, Lisa Ewald, Saskia Gullstrand, Allan Haverholm, Mats Källblad, and Steve Nyberg.
This year marks the 25th anniversary of Malmö being first referred to as the "Comic City". The starting point was an exhibition at the student-run Forum Gallery, which was located in the same building that Malmö Konsthall also had access to for a period under the name "Annexet", near the current shopping center Triangeln. The exhibition "Traces of Reality – New Culture from Malmö and Lund" brought together a new generation of illustrators, graffiti artists, and fanzine creators working outside the established art and literary world. "Traces of Reality" laid the foundation for the vibrant comic scene in Malmö today.
Malmö's contribution to the comic culture
In Malmö today, there is a strong artistic community, successful publishers, high-quality education, and international research in the field of comics. There is the opportunity for a continuous educational path in the theory and practice of comics, from Kulturskolan to doctoral studies at Malmö University. This has resulted in several generations of comic artists who have radically transformed comic culture and created a new perspective on what comics can be. This not only applies to the significant contributions of autobiographical, political, feminist, and norm-critical comics but also the questions and forms that comic art can take.
Norm-critique & risography
For today's comic artists, it is more of a rule than an exception to have received their education in Malmö, which also applies to the artists in this exhibition. Participating artists are Amalia Alvarez, Oskar Aspman, Lisa Ewald, Saskia Gullstrand, Allan Haverholm, Mats Källblad, and Steve Nyberg. What these artists have in common, besides their clear connection to Malmö, is that they have, in various ways, questioned the norms and conventions that typically apply to comic art. Another theme in the exhibition is the printing technique – risography – which points to the delicate balance of comic art between being an art form and a mass medium, with its tangible physical materiality also addressing issues related to digitization.
The exhibition is curated by Gunnar Krantz, a comic artist and artistic professor in visual communication & drawing at Malmö University. As a comic artist, editor, and critic, Krantz has played a significant role in introducing contemporary comics to the Swedish audience.
Information
The exhibition is shown in the Workshop
Vernissage 29.11 at 18