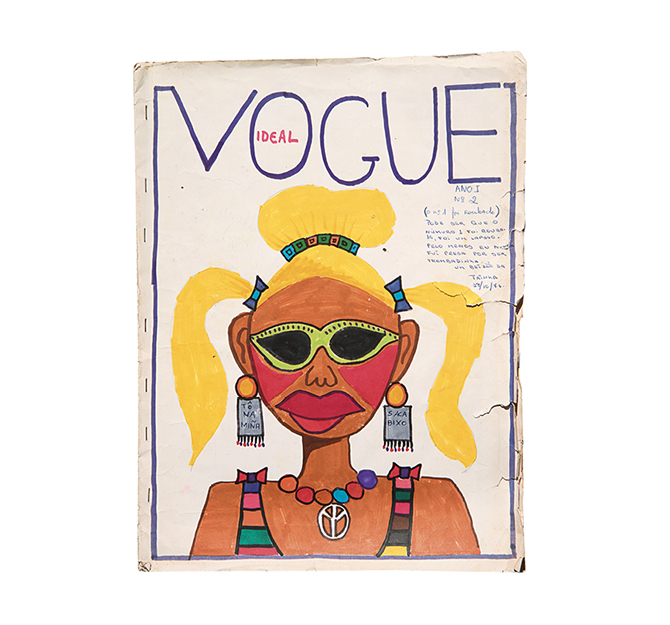 Leonilson
-
Digital opening (in Swedish) Friday June 18th at 6–5.30 pm via Facebook Live and YouTube 
The exhibition Leonilson – Drawn: 1975–1993 is the first major retrospective of Brazilian artist José Leonilson (1957–1993) in Europe. Leonilson was one of the major exponents of a generation of Brazilian artists known as Geração 80 (80s Generation). After the end of Brazil's military dictatorship in the mid-1980s, this group of artists celebrated their newly acquired freedom with a gestural, colorful, and expressive style of painting. While American Pop Art appropriated the symbols of a highly industrialized society in the 1980s, the Geração 80s art was firmly critical of society.
Leonilson studied art in São Paulo (BR) from 1978 to 1981. Apart from Eva Hesse and Blinky Palermo, both of whom he met during travels in Europe, his first major influence was the Italian transavanguardia movement. Formed in the late 1970s, transavanguardia turned to figuration, ancient mythology, and expressive colouration. Similarly, Leonilson's paintings and drawings from this period show an eclectic subjectivism and an emblematic visual language. An exhibition of textiles produced by the Shakers, a Christian American sect, marked a key moment in the artist's early career. The Shaker's embroidered maps of their estates influenced him greatly and inspired him to embrace fabric as a medium.
When Leonilson was diagnosed with AIDS in 1991, his visual language changed significantly: between 1991 and 1993, his work, which resembled a diary, betrayed his deteriorating health and a preoccupation with death. Towards the end of his life, he was only able to work with needle, thread, and cloth. In this period, language and abstraction, as well as religious visual and formal language played an important role in Leonilson's work.
The retrospective at Malmö Konsthall presents a broad range of mediums and styles, from early paintings to the introspective embroidery of Leonilson's last years, providing an overview of his entire oeuvre. The exhibition is produced by KW Institute for Contemporary Art, Berlin, by curator Krist Gruijthuijsen and shown in Berlin from January 2021. The exhibition in Malmö is a collaboration with Moderna Museet.
The exhibition Leonilson – Drawn: 1975–1993 is Malmö Konsthall's contribution to World Pride 2021, which will take place in both Malmö and Copenhagen, and part of the project Öppna Malmö (Open Malmö) – an initiative taken by the city of Malmö to combat discrimination and racism 2020–2022.
Image: José Leonilson. Vogue Ideal (fanzine), 1976. Marker, ballpoint pen, and graphic on paper. Private collection, São Paulo. Photo: Rubens Chiri
An exhibition produced by KW Institute for Contemporary Art, Berlin in collaboration with Moderna Museet, Malmö Konsthall and Serralves Foundation – Museum of Contemporary Art, Porto. The exhibition Leonilson: Drawn 1975-1993 is made possible through the German Federal Cultural Foundation.