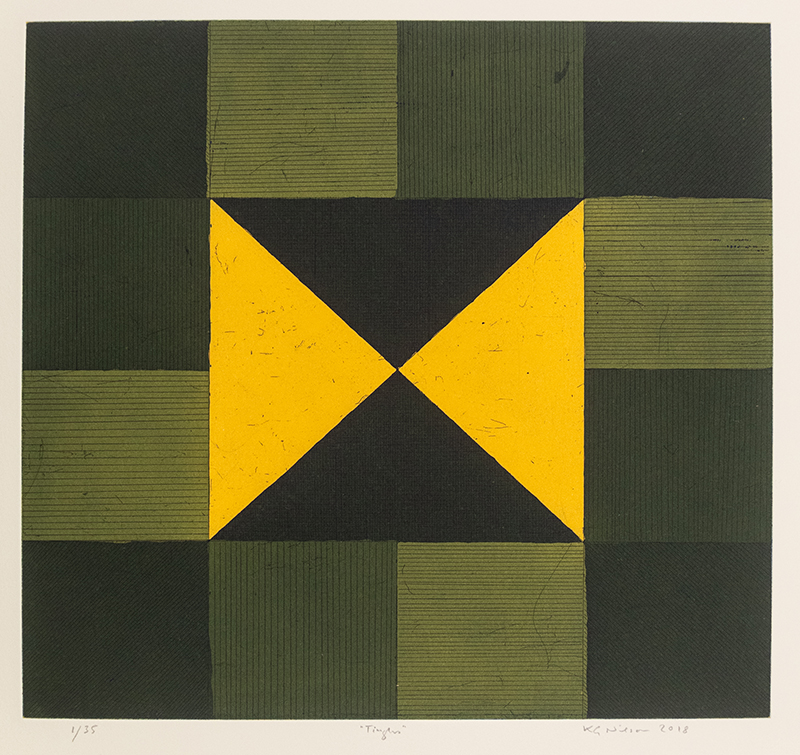 KG Nilson
Exhibition in the restaurant 27.2 – 29.3 2020
The artist KG Nilson (b. 1942), based in Stockholm and Österlen for many years, now living in Malmö, exhibits newly produced graphical prints and paintings in Mellanrummet.
KG Nilson has since his studies at Valand's School of Fine Art in Gothenburg , Atelier 17 in Paris and the Art Academy in Stockholm been interested in how colour and form interplay and influence each other. Through colourful geometrical compositions and maps, KG Nilsson examines the way nuances of colour create rhythms and dynamics. Here he has points in common with Inger Ekdahl, currently exhibited in the main exhibition hall.
KG Nilson developed his own theory of colour, published in the book Färglära [Colour theory]. The first edition was printed in 1982. His latest book is Om färg [About colour] from 2018. KG Nilson was teaching  for many years at the University of Arts, Crafts and Design; and then professor at the Royal Art Academy of Fine Arts in Stockholm.
Aktuell information
Opening: Wednesday 26.2 at 6–9
Artist talk at 7 pm