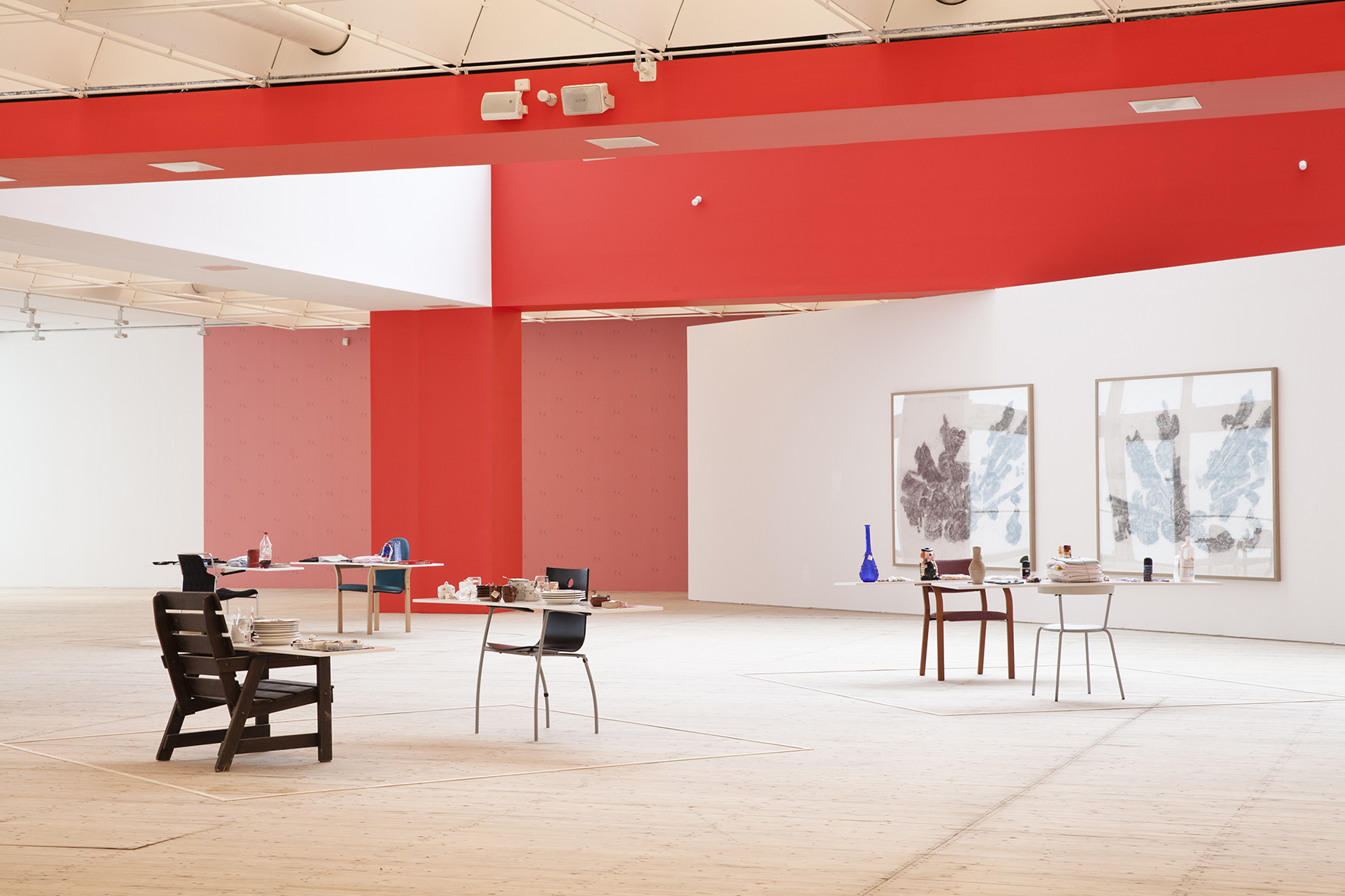 Carla Zaccagnini and Runo Lagomarsino
-
This is the first major exhibition in Scandinavia by Carla Zaccagnini (b. 1973), and Runo Lagomarsino (b. 1977), who lives and works half the year in Malmö and half in São Paulo.
Zaccagninis and Lagomarsinos oeuvre reflects the transnational in their respective biographies. Lagomarsino was born in Lund. His parents are Argentinean Italian descendants, who for political reasons, fled from Argentina in the 1970s. Zaccagnini was born in Buenos Aires. Her Argentine parents, even those with Italian roots, emigrated to Brazil in 1981. These roots of migration emerges in both their ways of working and can be clearly marked in their multi-faceted approach to artistic mediums. It is also reflected in their interest to linguistics, geography, post-colonialism, national identity, gender, art history and issues relating to institutional criticism. The works in the exhibition serves as episodic encounters with the artists' ongoing research in these subject areas.
Despite a similar focus and cultural background, differences in Zaccagninis and Lagomarsinos working quickly clear when their works are exhibited together. Zaccagnini explores the subjects she takes on an almost topographically way and highlights yet to be told, or forgotten stories to light. An important example of her method is Restauro (Restoration, 2001), an extensive – but still frail – the restoration of the painting Sem Título (Cabeça) (Untitled [Main], about 1882) by the Brazilian champion Almeida Júnior, the artist commissioned in to restore its original light. Lagomarsinos investigations of light is however about to change the way we look at both sunlight and artificial light sources, by throwing their ordinary meaning and context. His installation Stolen Light (Abstracto a Dorado) (Stolen Light [Abstract in gold], 2013) consists of a collection of used lamps and fluorescent tubes, which the artist stole the Ethnological Museum in Berlin. The light sources are shown in a booth to imitate the museological cataloging methods and placed in front of a wall covered with gold leaf. The gold refers to Eldorado – the mythical city made of gold as a 1500s Spanish explorers so violently searched for. In this way pairs Lagomarsino accusing together documents related to the "enlightenment" of the colonial structures that maintain Western ethnographic and anthropological museums.
The works in the exhibition have been divided into five themes: mapping and topography, violence and destruction, minimizing the distance, navigation through languages and regions, displacements and (de) construction of national identities. The groupings enhanced by an exhibition design and a graphical system designed by the artist Luca Frei (b. 1976 in Lugano, resident of Malmö). Frei was invited by the artists because of his interest in sculpture as a form of presentation. Five monumental walls have been placed in a shape vaguely reminiscent of a compass, which draws attention to notions of geographic movement – a recurring element in Zaccagninis and Lagomarsinos works – while the visitor's gaze is led away from the exhibition center of the room. The walls appear to rotate diagonally between the pillars, which are part of the gallery's distinctive architecture. Its characteristic feature has been enhanced by the use of bold primary colors – red for columns and beams, blue for the freestanding walls short sides – which changes the room and enables a new experience for the visitor. Frei's design creates a dynamic setting that combines artworks and the room in a peculiar and unique design. Within this exhibition follows the structure of plants placing a logic of pairing and confrontation, reflecting the artists' working methods.
An exhibition catalog with essays by Nataša Ilić and Rebecka Thor will be published by Mousse Publishing in late May 2015th
Carla Zaccagnini was born in 1973 in Buenos Aires. Zaccagnini has a BFA degree (1995) from Fundação Armando Alvares Penteado in Sao Paulo. She also has an MA in visual poetics from the University of São Paulo (2004). She has had solo exhibitions at the Museu de Arte da Pampulha, Belo Horizonte (2002), Museu Victor Meirelles, Florianópolis (2005) and the Art Gallery of York University, Toronto (2008). She has participated in group exhibitions at the Museu de Arte Moderna, Sao Paulo (2001, 2008, 2009, and 2013), Museo de Arte Latinoamericano de Buenos Aires (2004), Cisneros Fontanals Art Foundation, Miami (2006), Fundación Jumex, Mexico City (2010), Museu de Arte Moderna, Rio de Janeiro (2011), the Guggenheim Museum, New York (2014) and the Museo Nacional Centro de Arte Reina Sofía, Madrid (2014-2015). She has also participated in the São Paulo Biennial (2008), Trienale Poli / Gráfica de San Juan (2012) and the eighth Berlin Biennale (2014).
Runo Lagomarsino was born in 1977 in Lund, Sweden. He holds a BFA degree (2001) from the Academy of Fine Arts, University of Gothenburg, and an MFA degree (2003) from the Malmö Art Academy. He then participated in the Whitney Independent Study Program, New York (2007-2008). Lagomarsino has had solo exhibitions at the ar / ge kunst Galerie Museum, Bolzano (2011), Index – The Swedish Contemporary Art Foundation, Stockholm (2012), Mendes Wood DM, São Paulo (2013) and Nils Staerk, Copenhagen (2014). His works have been shown in group exhibitions at Lunds Konsthall (2007), Hessel Museum of Art, Bard College, New York, Basis voor Actuele Kunst, Utrecht (2010), Moderna Museet, Stockholm (2010) and the Guggenheim Museum, New York (2014) , Kadist Art Foundation, Paris and the Museo Nacional Centro de Arte Reina Sofía, Madrid (2014-2015). He has also participated in the Guangzhou Triennial and the Gwangju Biennial (both 2008); Venice Biennial, Istanbul Biennial and the Prague Biennale (2011) and the São Paulo Biennial (2012). In 2014 he received Barbro & Holger Bäckström's scholarship. Runo Lagomarsino will attend the Venice Biennale 2015th