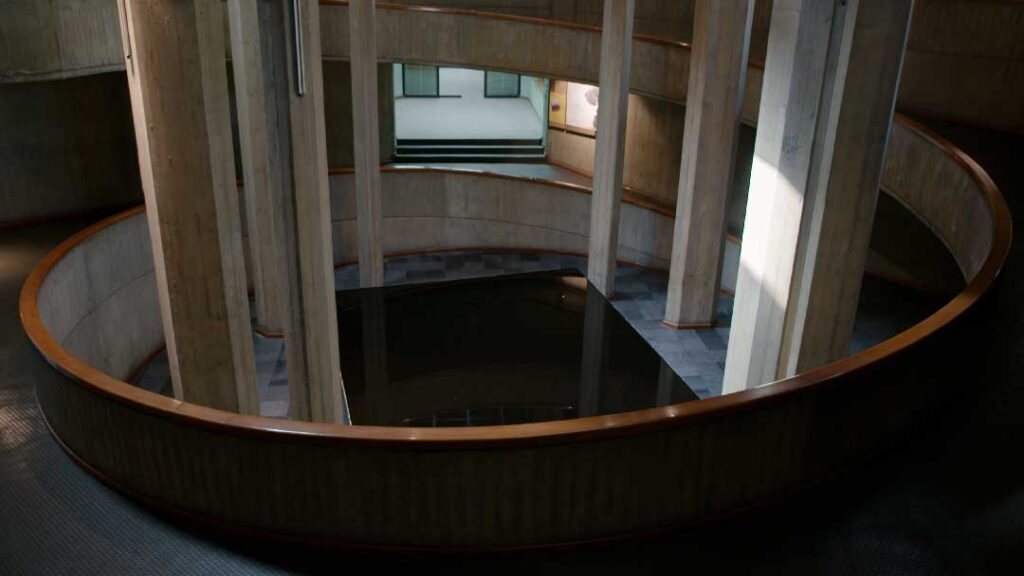 Shirin Sabahi: Artist talk and screening
15.2 2023
Shirin Sabahi's practice casts artefacts and places as protagonists, tracing their purpose and interpretation over time. Working with moving images, her installations and exhibitions include appropriated and newly-produced photographic, sculptural, and spatial materials that come alongside or in place of the actual film. In 2016–2019 she worked on a project about the Japanese sculptor Noriyuki Haraguchi and the curious afterlife of his minimalist sculpture Matter and Mind (Oil Pool). At Malmö Konsthall, Sabahi now presents the two films she made about the artist and the process of his work.
In 1977, the Japanese sculptor Noriyuki Haraguchi was invited to install an iteration of his sculpture Matter and Mind (Oil Pool)—a rectangular steel basin filled with used engine oil—at the Tehran Museum of Contemporary Art (TMoCA). Situated in the museum's central rotunda, arriving or leaving visitors have over the years turned the sculpture into an inadvertent wishing well, throwing coins and other things into it. The history and curious afterlife of Haraguchi's minimalist sculpture became the subject of Shirin Sabahi's 2016—2019 project.
At Malmö Konsthall, Shirin Sabahi will introduce her research around the oil pool and the two films made in the process. In Borrowed Scenery (2017, 15') Sabahi met Haraguchi in his studio in Iwate Japan. The film is a quiet portrait of Haraguchi, tracing his thoughts prefiguring Matter and Mind. A year after this visit, Sabahi initiated the sculpture's restoration and invited Haraguchi to TMoCA to oversee the procedure. Mouthful (2018, 36') documents the restoration, and tells the sculpture's story through rumors, poolside conversations, and the fished-out debris. Tapping into art's potential to bring about events otherwise deemed unnecessary or impossible, the film production became both the means and the end of the restoration project.
Sabahi's approach to Haraguchi's sculpture suggests how artistic practice can engage with the work of another artist, the institutional history of a nation, and the material memory of objects that intentionally or accidentally find their way into museums.
Shirin Sabahi is a Berlin-based artist and currently an artist-in-residence in Malmö. Working with and around moving images, her practice casts artifacts and places as protagonists, tracing their contextualization and interpretation through time. Recent exhibitions and screenings include Bergen Assembly (2022), CCA Berlin (2022); Kunstmuseum Wolfsburg (2021); Stavanger Kunstmuseum (2021); Ashkal Alwan, Beirut (2021); KW Berlin (2021); Savvy Contemporary, Berlin (2020); and Broad Art Museum, Michigan (2020).
What: Artist talk & screening
When: Wed 15.2 at 6 pm
Where: C-salen
No registration needed, admission free
Shirin Sabahi's residency in Malmö is abled by IASPIS, The Swedish Arts Grants Committee´s international programme for Visual and Applied Art.