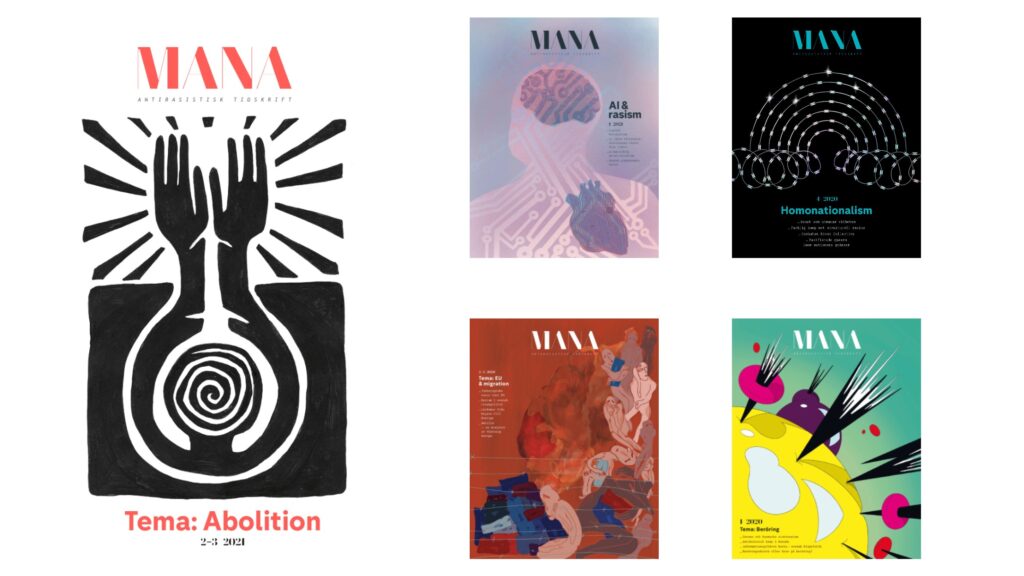 Release Mana: Abolition
Release of the magazine Mana's latest issue: Abolition 18.5 2022
"The contemporary abolitionist movement has roots all over the world (yes, even in the Nordic countries) and touches on various political and social issues such as police abolitionism, abolitionism of the death penalty, the prison system, debt, climate justice, borders and all other organized forms of violence."
In Mana's new issue, we hear voices from activists, academics and others who investigate these issues in different ways.
We also take this opportunity to draw attention to the issues that came out in 2020 and 2021 that we have not had the opportunity to celebrate yet. We invite you to an evening of conversation at Malmö Konsthall.
Issues will be available for sale at a special price!
More information
5 – 7 pm
The anti-racist cultural magazine Mana examines and takes a stand, exposing and urging. With high-quality imagery and everything from articles to poetry, Mana examines oppression in all its forms and offers an anti-racist debate on ideas.
The magazine has been published since 2010 by Föreningen Tidskriften Mana. Our goal with the magazine and the website is to report on, analyze and provoke debate on issues related to racism and anti-racism, social mobilization, global distribution policy, migration, asylum policy and discrimination – in Sweden and in the rest of the world. With our intersectional perspective and focus on structural racism, we are a central arena for anti-racist culture and ideas debate in Sweden