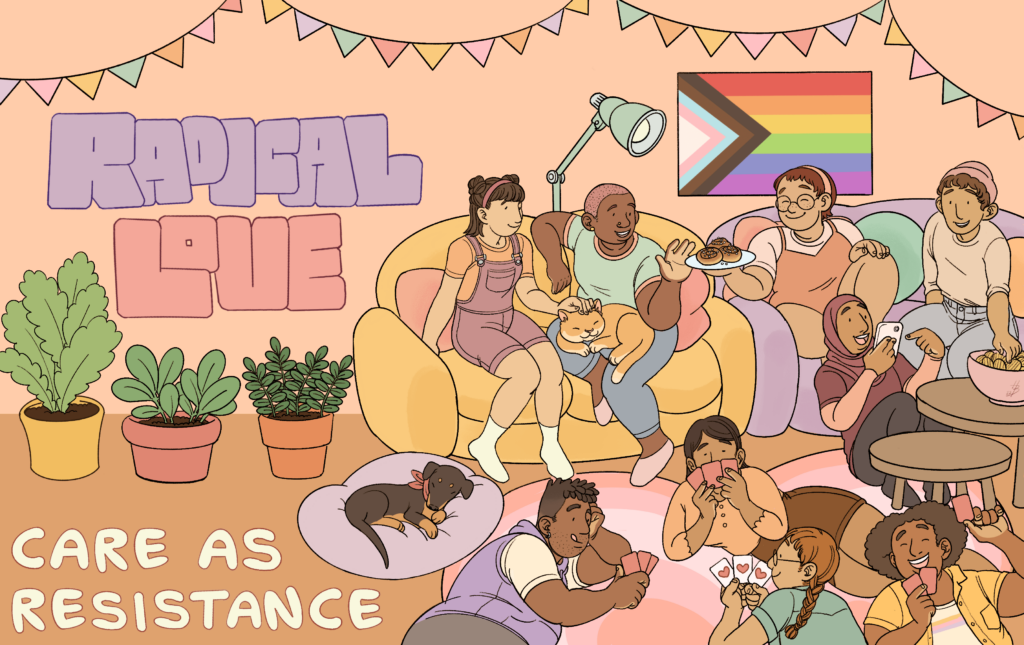 Radical Love: care as resistance
22.3 2023
Radical love: care as resistance visits the exhibition FLIGHT. The series explores practices of care in queer and BIPOC artistic and activist communities as resistance against growing neo-fascism, Islamophobia, racism, and transphobia. The programme will be in English.
Samuel Girma and Sam Hultin invite you for an evening of Radical love: care as resistance at Malmö Konsthall. They will serve vegan soup (free of charge), present their work and screen the short film Monangambé (1968) by Sarah Maldoror (1929–2020). The film was shot with non-professional actors during Angola's Armed Struggle of National Liberation. Finally, Sam Hultin, Samuel Girma, and curator Tawanda Appiah will have a conversation about the current exhibition FLIGHT through the lens of care.
During the fall of 2022 Samuel Girma and Sam Hultin organised Radical love: care as resistance at IASPIS, Stockholm, invited by Valerio Del Baglivo. The series included guests; Hil Malatino, Judith Kiros, Valerie Kyeyune Backström, Zafira Vrba Woodski, Jonelle Twum, Levi Appelton, Asynja Grey, and Lynnee Denise.
Programme
18.00 Doors open to Verkstan, vegan soup is served.

18.30 Samuel Girma and Sam Hultin present their series Radical love: care as resistance.
19.00 Presentation of Sarah Maldoror's work by Samuel Girma and screening of Monangambé (1968).
19.30 Conversation about FLIGHT through the lens of care between Sam Hultin, Samuel Girma and curator Tawanda Appiah.
Accessible toilets and elevators are available in the building. If you have any questions about accessibility, don't hesitate to contact us through info.konsthall@malmo.se.
What: Lecture, film screening & food
When: Wed 22.3 at 6–8.30pm
Where: The exhibition space / The Workshop
Language: English

Drop in, admission free
Sam Hultin is an artist based in Stockholm, Sweden. Their work is based on their interest in queer history, identity and community and explores connections between personal experiences and political and social structures. Through city walks, sing-alongs and anniversaries Sam Hultin often invites queer communities to activate parts of a queer history together with them.
Samuel Girma is a Stockholm based film and art curator, as well as a community organiser, activist and co-founder of the antiracist, intersectional, and feminist platform Black Queers Sweden. Born and raised in Ethiopia, Samuel Girma moved to Sweden at the age of 13, a move that has affected much of his view on Blackness and the experiences that comes with migration. Much of Samuel's work, art and writings depart from and center the experiences of Black bodies.
Tawanda Appiah is a Zimbabwean curator, researcher and writer based in Malmö, Sweden. He is the curator of FLIGHT, the current exhibition at Malmö Konsthall which features works by Kudzanai Chiurai, Frida Orupabo and Eric Magassa. It is an exhibition that presents what comes to the surface when we examine history with a critical eye.
Sarah Maldoror (1929–2020) was a French filmmaker of French West Indies descent. She was engaged with the anti-colonial and solidarity movements across the African continent and her work alternates fiction with the documentary. She is best known for her feature film Sambizanga from 1972 on the war in Angola (1961–1974). Sarah Maldoror said, "I play a cultural role as filmmaker. What interests me is to research films about African history, because our history has been written by others, not by us."