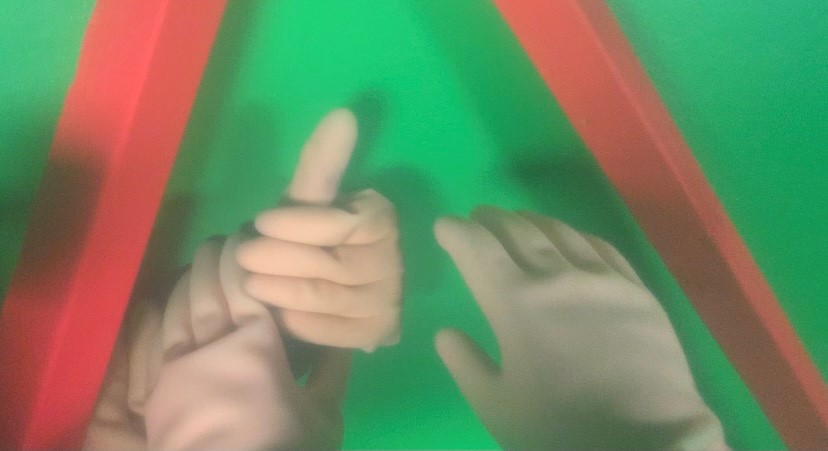 Performance about working heroes
30.11 at 6 pm
"Courage means speaking from the heart: Vi är uppsträckta och stolta ryggar som gör vårt arbete dag till dag med ett lager av voodoo" is a performance piece by Rex Okoro Ijomanta and Johanna Gustavsson in collaboration with the band De Empirez. The performance will have its premiere at Malmö Konsthall.
The performance is partly in Swedish, partly in English. It is a further development of the sound work of the same name that was presented at Hägerstensåsen's civic center in Stockholm in the summer of 2022.
→ The program is presented by the artist duo Moloid A… who during autumn and winter 2022–2023 welcomes the audience to a series of evening programs in Malmö Konsthall's exhibition I staden växer ett fält – 50 konstnärer i Malmö.
Information
What: Performance
When: 30.11 at 6 pm Where: The exhibition space Language: Swedish & English Length: About 30 minutes Drop in, free entrance
With support from Swedish Arts Council

---
Participating
Johanna Gustavsson is an artist who works with performance, performing arts, text and sound. Among other things, she has written the novels I do we every day and We are this place or condition. She was also one of the initiators of MFK Malmö Fria Kvinnouniversitet (2006–2011).
Rex Okoro Ijomanta is a handyman and self-taught writer who writes poetry and fiction. In his home country Nigeria he wrote political texts under aliases as part of the organization IPOB – Indigenous People Of Biafra.
Script, direction and idea: Rex Okoro Ijomanta & Johanna Gustavsson
Starring: Rex Okoro Ijomanta, Steve Shungu, Hugo Onyeaghala, De Empirez & Johanna Gustavsson
Music: De Empirez – Steve Shungo, Hugo Onyeaghala, Kenneth Egemuka, Per Persson, Blessed Bonney Kuntu-Blankson and others
Video: Kenneth Egemuka and Michel Batata (camera), Michel Batata and Per Persson (editing), Per Persson (sound producer)
Thanks to: Nasim Aghili, Jennifer Hayashida, De Empirez and especially Steve Shungu and Hugo Onyeaghala, Jeuno Kim, akcg, Malin Holgersson, Mon Johansson, The Knife, Lo Hillarp, ​​Ida Börjel, Malmö konsthall & all extended family for love and support!