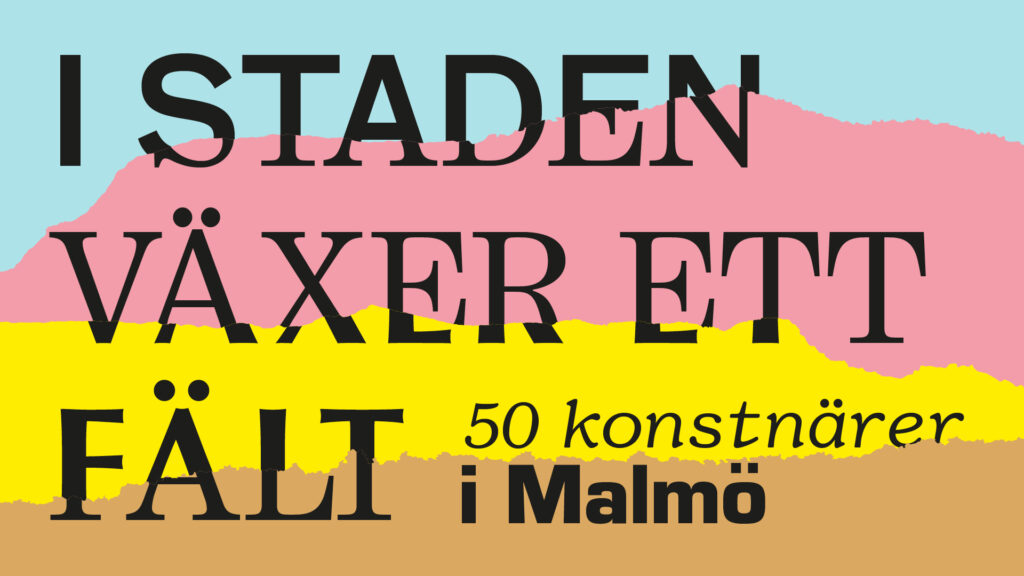 Opening: I Staden Växer Ett Fält
30.9 kl 19–21
Autumn's group exhibition with 50 Malmö-based artists wants to gather the energy and strength that the exhibition's curators see within the city's art scene. It contains works from fifty artists representing different generations and expressions.
The ambition is to create a teeming and rich presentation with a focus on the waywardness and integrity of art, but also the collective gatherings of power that create conditions for artists to work in the city of Malmö: a collegial, artistic and organizational situation that gives more rings to the water.
Hela Malmö are hosts for this opening!
Welcome!
Information
→ Main exhibition hall is open 7pm-9pm. Restaurant SMAK is open until 11pm.
→ Introduction by director Mats Stjernstedt and curators Asrin Haidari, Emily Fahlén and Elena Tzotzi. Speech by Pernilla Conde Hellman, Cultural Director Malmö City. The opening is hosted by the organization Helamalmö.
Anna Andersson, Marianne Andersson Embäck, Sergio Augusto, Kah Bee Chow, Anita Christoffersson, Lars Embäck, Zardasht Faraj, Carola Grahn, Astrid Göransson, Sigrid Holmwood, Bo Hylander, Torsten Hylander, Andreas Johansson, Cia Kanthi, Tamara de Laval, LealVeileby, Iman Mohammed, Johan Nahoj, Mariella Otto, Rasmus Ramö Streith, Samaneh Roghani, Julia Selin, Magnus Thierfelder Tzotzis, Jonelle Twum, Thale Vangen, Charlotte Walentin, Amin Zouiten, Jon Åkerlind.
In Johan Nahojs work On-hold participants are: Kah Bee Chow, Petter Dahlström Persson, Nils Ekman, Mattias Eliasson, Ingrid Furre, Helen Haskakis, Ingvild Hovland Kaldal, Ingela Ihrman, EB Itso, Gabriel Karlsson, Johan F Karlsson, Ellinor Lager, Youngjae Lih, Ariadna Mangrané, Marcus Matt, Jennifer Myerscough, David Nilson, Olof Nimar, Joana Pereira, Jennifer Sameland, Joakim Sandqvist, Selma Sjöstedt och Matti Sumari.
The exhibition's curators are Emily Fahlén, Asrin Haidari, Elena Tzotzi and Mats Stjernstedt