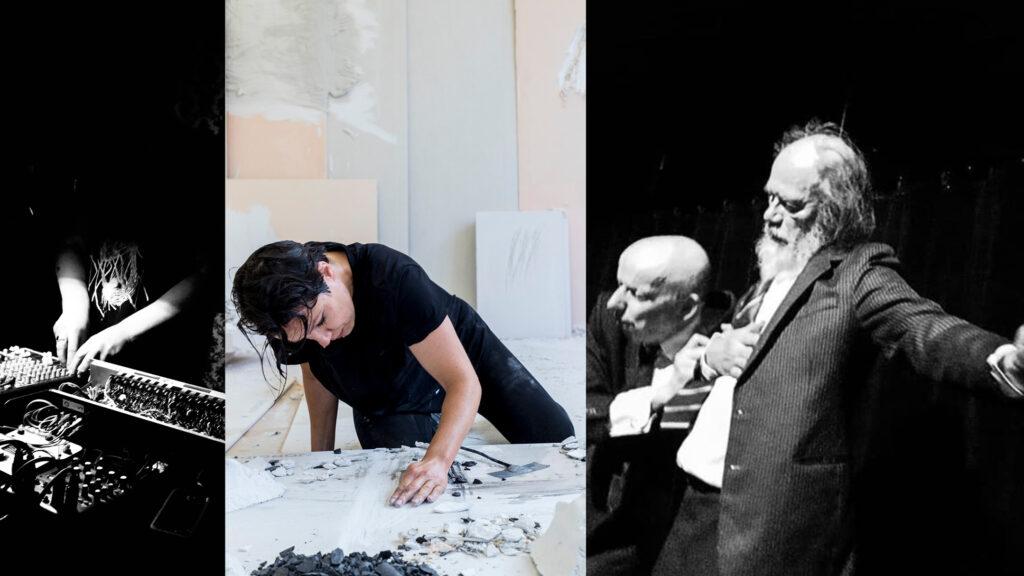 Evening program: Death
With Anastasia Ax, Sons of God and Noise against Fascism 28.4 at 17–20
To the exhibition Åke Hodell – Resistance, curator Elena Wolay has invited musicians, performance artists, poets and authors to activate works by Åke Hodell in various ways. During the program evening 28.4 linked to the theme "Death" (in the exhibition), Anastasia Ax works with an ongoing performance work. In the exhibition hall: Harsh Noise by Noise Against Fascism and performance by Sons of God.
Anastasia Ax is an artist based in Stockholm. Anastasia Ax is educated at the Royal Academy of Fine Arts, Stockholm and the School of Photography, Gothenburg. Her art is characterized by a mixture of performance, painting, sculpture and sound. She uses her body as a starting point in brutal or subtle collisions with physical materials. She explores deconstruction and transformation as a way of creating new stories, destroying given ideas and breaking physical and imaginary boundaries.
Sons of God, consisting of the artists Leif Elggren and Kent Tankred, was formed in 1988 after several years of collaborations. The nisch of the sons of God can be described as an examination of a mental airspace where various unconventional tools are used. The audible is as important as the visual. The sons of God are often augmented by other actors such as friends and colleagues who influence and influence what is heard and seen. The sons of God are in the service of the civil defense and want to infuse power and mod.um.
Noise Against Fascism is harsh noise. A deafening roar in anger and sorrow over oppression and injustice, in love and solidarity with all who resist. Live, the music is improvised on no input mixer, looped effect pedals and various other electronics.
Information
Friday 29.4. at 17–20
17:00 Performance by Anastasia Ax (i C-salen)
18:30 Performance by Guds Söner and Noise against Fascism (Utställningshallen)