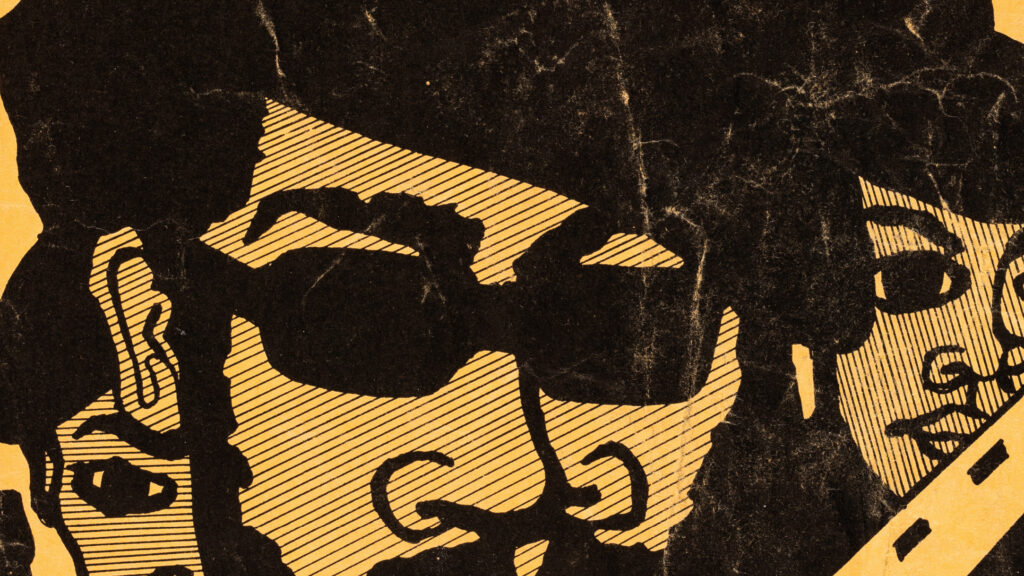 Program Day Åke Hodell: Black Power
With Robert Aiki Aubrey Lowe, Matana Roberts, Loulou Cherinet, Mapei and more. 7.5 2022
During the exhibition Åke Hodell – Resistance, the exhibition's curator Elena Wolay has invited musicians, performance artists, poets, and authors to activate works by Åke Hodell in various ways. The program day Åke Hodell: Black Power is part of the Kulturförvaltningen in Malmö's initiative against anti-black racism.
This day revolves around the theme Black Power, which is one of five themes in the Åke Hodell – Resistance exhibition. A recurring theme in several of Åke Hodell's works is people's struggle for survival, which is made clear in his relationship to the Black Power movement. One example is the work Where is Eldridge Cleaver? from 1968, where slogans used by the Black Panthers echo along with a chorus of repeated questions about where the missing Black Panther activist has gone: "Where is Eldridge Cleaver?".
For the program day, international participants have been invited to a rich program with performances, talks, concerts, meditation, screenings of the exhibition, baby rave, etc.
Program and schedule:
10.00 – 11.00 – WORKSHOP: RADICAL AND INTENTIONAL SELF-CARE. WITH WEINI SMON
11.30 – 12.30 – PERFORMANCE: ROBERT AIKI AUBREY LOWE (US).
13.00 – 14.00 – ARTIST TALK: LOULOU CHERINET
14.15 – 15.15 – BABY RAVE: "GREAT BLACK MUSIC''
15.00 – 15.15 – PERFORMANCE: MAPEI
15.15 – 16.00 – CURATOR'S TOUR: ELENA WOLAY, TEMA BLACK POWER.
PERFORMANCE: RUNO LAGOMARSINO
16.00 – 17.00 – TALK: MALCOM JALLOW, RENA BALEDI, JONELLE TWUM & SAMUEL GIRMA
17.15 – 18.00 – PERFORMANCE: MATANA ROBERTS (US)
More information about the program:
→ Meditation: Radical and intentional self-care workshop med Weini Smon 10.00–11:00 For people of color and others who sympathize with racialized people. Limited number of seats. Pre-register to info.konsthall@malmo.se
This workshop discusses the history of radical self-care, what it meant for the black power movement and how it can be applied in the fight for social justice today. The discussions will take place in groups and we will explore different wellness methods together. The workshop is beginner friendly; no previous experience or knowledge is required.
Bring a pen and a notepad
Weini Smon is a Stockholm based Vinyasa and Ashtanga Yoga teacher with Eritrean roots. She became a certified Yoga instructor in 2020 from Sampoorna Yoga Teacher Training Training in Goa. Weini describes yoga as a practice to enhance your mental and physical resilience and self-exploration. She has experienced a lack of diversity in the wellness space is something that she wants to change by creating safe spaces for People of Colour. It should not be a privilege to have access to wellness but rather a necessity and a fundamental right.
→ Performance/Konsert: Robert Aiki Aubrey Lowe (US)
11:30–12:30 in the Exhibition space
Robert Aiki Aubrey Lowe (b. 1975) is an artist, curator and composer that works primarily with, but not limited to voice and modular synthesizer for sound in the realm of spontaneous music. Along with analog video synthesis works, he has brought forth an A/V proposal that has been a focus of live performance and installation / exhibition. The marriage of synthesis and the voice has allowed for a heightened physicality in the way of ecstatic music, both in a live setting and recorded. The sensitivity of analogue modular synthesis echoes the organic nature of vocal expression which in this case is meant to put forth a trancelike state.
→ Artist Talk: Loulou Cherinet
13:00–14:00 in C-salen
Loulou Cherinet talks about her art and her works Magical Transformations of the World (2009) and Bleeding Men ll (2005) which are a part of the exhibition Åke Hodell – Resistance.
Loulou Cherinet (born 1970) is a Swedish-Ethiopian artist who works with film and video installations. The large-scale and sculptural outdoor painting she worked with early in her career has moved to a focus on narrative structures and multi-channel video installations, where the film's montage is given spatial form. Since 2015, Cherinet has been teaching as a professor of art at the University College of the Arts in Stockholm.
→ Baby Rave: Great Black Music
14.15-15.15 in C-salen
Dance and rave with the theme "Great Black Music". Drop in: all ages are welcome, from the very youngest and older.
→ Performance: Mapei
15.00 – in the Exhibition space
Mapei reads from a curated selection of books that relates to black power.
Mapei (Jacqueline Mapei Cummings), born in 1983 in Rhode Island, USA, is an American-Swedish singer. Some popular singles are Video Vixens, Don't Wait and Change. In 2019, she released the album Sensory Overload, which was also made as a visual music album and was shown on SVT.
→ Curator's tour med Elena Wolay: Tema Black Power
15:15-16:00 in the Exhibition space
The exhibitions curator Elena Wolay shows Åke Hodell – Resistance, with focus on the part that is important to the theme Black Power. A central theme in the exhibition are people's struggle for survival, which is clarified in his relationship to the Black Power movement.
The exhibition's curator Elena Wolay is a driving force on Sweden's alternative music scene. She works as a curator, music journalist, lecturer and is the founder of the platform Jazz Är Farligt, which includes a live festival and a magazine.
→ Performance: Runo Lagomarsino
After Elena Wolays curator's tour – in the Exhibition room
Performance by Runo Lagomarsino: Unlike all other empires (for Edward Said)
Language, geography and historiography are themes that Lagomarsino returns to in his practice. Often envouraged by materials that evokes memories or alludes to a relationship to something. Only to then ask us to reflect on the conditions that enable these connections. Lagomarsino's work points to the gaps and cracks in our explanatory models, which underlines the language's difficult foundations. And with precise and poetic shifts, he constructs contradictions, fragmented blind spots, from which other stories can be told. Lagomarsino was born in Lund in 1977 and lives and works in Malmö.
→ Talk: The relevance of the Black Panthers today
16:00­–17:00 in the Workshop
with Malcom Jallow (Afrosvenskarnas Forum för Rättvisa), Rena Baledi (Project manager for Anti-racist monument, Malmö stad), Jonelle Twum (Artistic Director, Black Archives Sweden)
→ Performance/Koncert: Matana Roberts (US)
17:15 in the Exhibition room
Matana Roberts is an internationally renowned composer, band leader, saxophonist, sound experimentalist and mixed-media practitioner. Roberts works in many contexts and mediums, including improvisation, dance, poetry, and theater. She made two records as a core member of the Sticks And Stones quartet in the early 2000s and has gone on to release a diverse body of solo and ensemble work under her own name on Constellation and Central Control over the past decade.