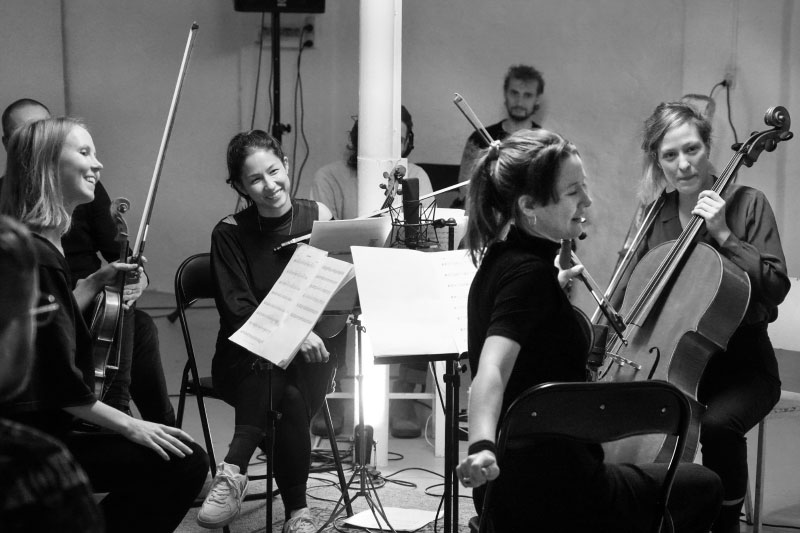 CONCERT: Halvcirkel
-
*The concert is postponed from the 19.8 at 6 pm to 14.10 at 7 pm.
Halvcirkel is a Danish string quartet, formed in 2015 in Copenhagen. They came together as a musical collective, to embark on a creative journey. With their background deeply rooted in the classical institution and tradition; they are on a continuous search for musical expansion.
Through improvisation, electronics, new spaces and collaborations with other art forms, Halvcirkel is broadening the context and narrative of what a string quartet is and can be. Their keywords are presence and intensity.
They have collaborated with composers such as Terry Riley, Arvo Pärt, Philip Glass, Shostakovich, Benjamin Britten, Maurice Ravel as well as closer collaborations with Copenhagen based composers such as Signe Lykke, Anders Lauge Meldgaard and Nick Martin.
Tonight's programme
– Anders Lauge Meldgaard: Fragment 94 (2018)
– Terry Riley: Salome Dances for Peace for String Quartet (1986)
Halvcirkel
Bettina Marie Ezaki, violin
Pernille Kristiansen, violin
Mika Persdotter, viola
Ida Nørby, cello
Halvcirkel has released two albums; Halvcirkel (2017) and The Gift (2018) and is supported by Statens Kunstfond "Den unge kunstneriske elite" 2020–2022.
Admission free, number of seats limited to 50 due to Covid-19. Booking required (see below). Admission from 5.30 pm.
Bookings:
Book a seat by emailing info.konsthall@malmo.se, heading the email "Halvcirkel". Your place is not booked until you receive a confirmation email. You can also register by calling our bookstore on 040-34 60 00. Recommended age from 12 years. Welcome!