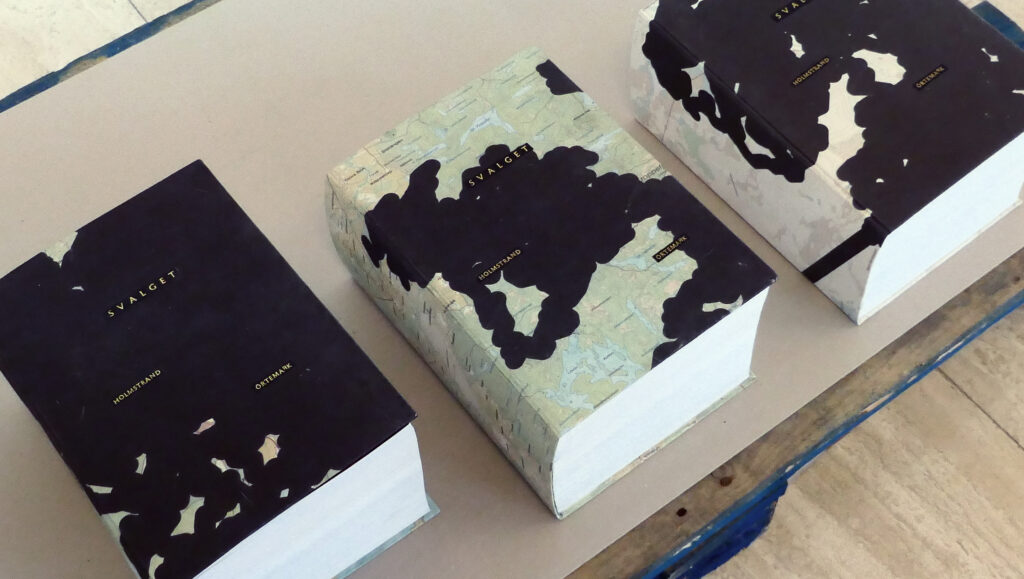 Bokrelease/Rojal
Bokrelease X3 with performance 11.5 2022
The Gothenburg-based artist book publisher rojal is releasing three new books and celebrating at Malmö Konsthall with a presentation, reading, performance+sound work by Leif Holmstrand and Jonas Örtemark, as well as books at favourable prices.During the evening, Leif Holmstrand's and Jonas Örtemark's 2885-page mammoth book Svalget, Nils Olsson's experimental essay book r, and the winding algorithm art book The Computer as Seen at the End of the Human Age are presented. In Swedish.
Svalget is a large experimental book that has emerged over ten years from a swallowing, incorporating, uncontrollably voracious attitude. Semi-quotes from contemporary online quarrels, recipes, blogs and angry discussion threads have mutated, been processed and joined together with dreamy visions, branching stories, poetry, extremely prosaic outbursts and rhythmic cut-up collages. Everything is dirt, sadness and hunger, everything is beautiful and fun.
"r" is the title of a publication that asks the question of what happens if we choose to understand literature as an editorial art form. "R" is the introduction to a theory of how literary works of art can be read with a different gaze than the one that reduces by identifying. "R" is an essay about Carl Jonas Love Almqvist and Walter Benjamin, among others. "R" is a unit and a distribution system – which continues to be edited.
In The Computer as Seen at the End of the Human Age, 13 Swedish and international artists have been invited to appropriate, interpret and recreate the digital (art) history using algorithms – an independent history writing created by machines, 200 hand-bound books, each and one with a unique content.
Contributing artists: Geraldine Juárez, Cornelia Solfrank/Winnie Soon, Mishka Henner, Shane Hope, !Mediengruppe Bitnik, Rosa Menkman, Rosemary Lee, Olle Essvik, Evan Roth, Jonas Lund, Darsha Hewitt, Carl-Johan Rosén, Linda Hilfling Ritasdatter and Jacek Smolicki.
Image: Cover of the book Svalget, royal 2021