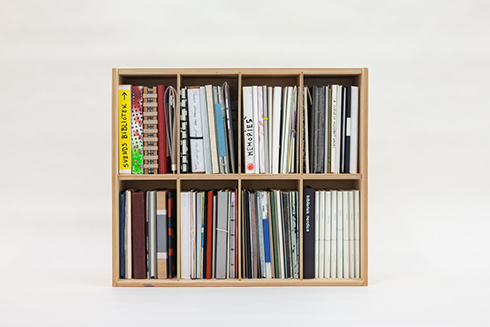 Bibliotek Nordica
-
This library collection of 82 artists' books by invited artists from Denmark, Finland, Iceland, Norway and Sweden gives a unique insight into the practice of making books in this part of the world at this moment in time.
Each artist provided the project with the first eleven books of their edition, to create ten identical libraries. In exchange for their contribution the artists each received a randomly chosen eleventh book.
The A6 book formats range from concertina, pamphlet, multiple section hand stitched, stab bound, map folds and several unique constructions. The works incorporate a variety of techniques such as screenprint, Riso, etching, relief, woodcut, linocut, lithograph, digital, drawing, painting and collage. Materials include paper, card, cloth, wood, plastic, metal and leather. Each library contains a catalogue and a poster, alongside critical writings about artists' books from this geographical region. These texts are produced as A6 pamphlets and will be added to, as a continuation of the project.
Biblotek Nordica is a Codex Polaris production coordinated by Imi Maufe in collaboration with Megan Adie and Bent Kvisgaard. It was created for the international focus at the Codex book fair in the San Francisco Bay Area, in February 2019 and serves as a resource for artists' books from this the Nordic countries.