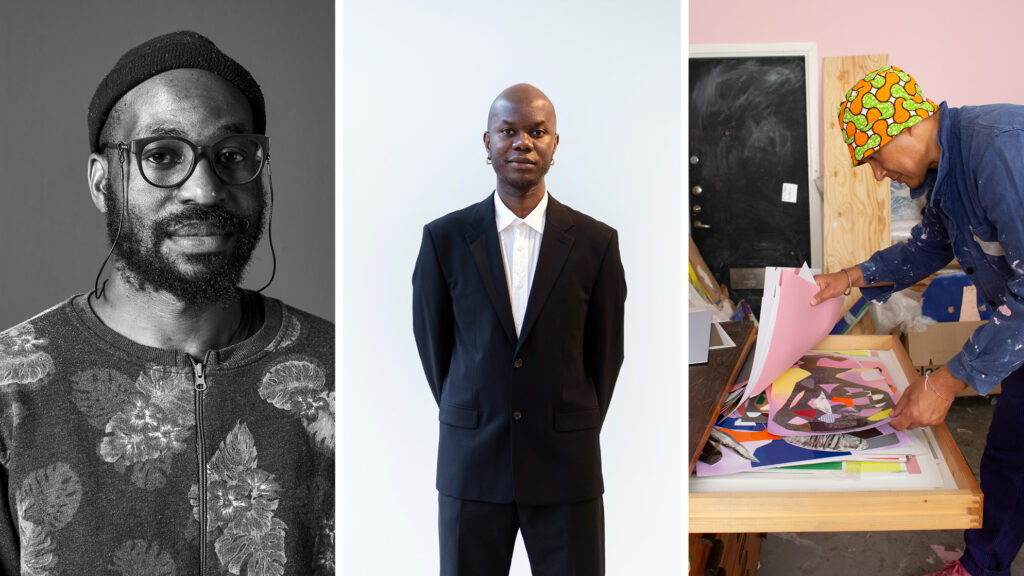 Artist talk with the artists in FLIGHT
4.2 2023
What happens when we sift through history and its dark archives? The exhibition FLIGHT presents artists who, through different modes of expression, exhume the past and its echoes in our shared present. Meet two of the artists, Kudzanai Chiurai and Eric Magassa, in a talk with the curator of the exhibition, Tawanda Appiah, during the opening day. The talk will be held in English.
FLIGHT is a group exhibition that combines the artistic practices of Kudzanai Chiurai, Frida Orupabo and Eric Magassa, artists who engage with themes of remembrance and reckoning. It is formed through a range of mediums including collage, photography, printed matter and sound. The exhibition presents narratives, abstractions and critical fabulations connecting some of the most pressing issues of our time with stunning forms of visual representation. Together with Tawanda Appiah, the curator of the exhibition, Chiurai and Magassa will talk about their practices and the processes of FLIGHT.
Kudzanai Chiurai was born in 1981 in Harare, Zimbabwe, where he lives and works today. He incorporates various media into his work, which is largely focused on cycles of political and economic inequality, and conflict resolution in post-colonial societies. Chiurai's work The Library of Things We Forgot to Remember is shown in Malmö for the first time. Founded in 2017, it is an audio and visual archive of Black resistance, solidarity and collaboration. The library houses an extensive collection of sound recordings and works on paper that are linked to various liberation movements of the African continent and beyond. 
Eric Magassa was born in 1972 in Gothenburg, Sweden, where he lives and works today. He is a multidisciplinary artist, combining mixed-media collage, painting and photography. He explores issues of identity, its intermediary nature and its connection to memories and places. Magassa has roots in Sweden, France and Senegal, which are often mirrored in his work. His approach is that of dislocating narratives, regularly using the mask as an object of contention.
Information
What: Artist talk
When: Sat 4.2 at 2–3.30 pm
Language: English
No registration needed, admission free